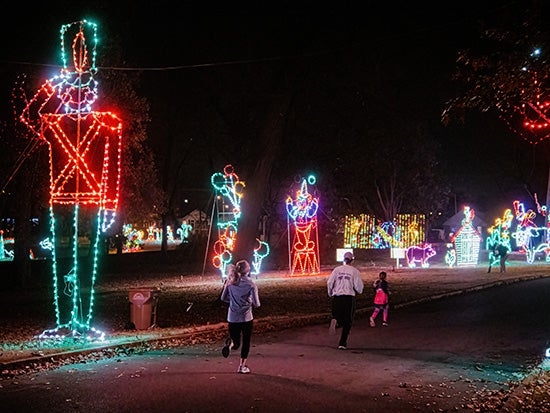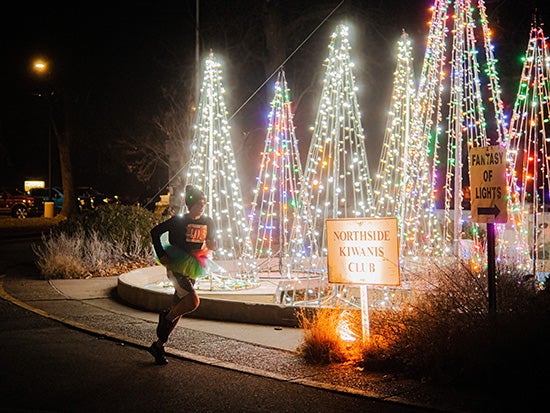 On Wednesday, December 7, Ritzy's Fantasy of Lights will close to vehicles and carriages and open ONLY to runners, walkers, and persons using wheelchairs or other mobility equipment for "Bright Lights for Easterseals" – a 5K timed run and 1-mile walk sponsored by Edward Jones®, Jim Back, CFP® Financial Advisor.
T-Shirts
The first 100 registrations for the race ($25 entrance fee) will received a long-sleeved t-shirt instead of the short-sleeved t-shirt!
5K run registrations on or before November 18, 2022, will be guaranteed a shirt. After that date, shirts and sizes are not guaranteed.
Start Time
The 5K timed race begins at 5:45pm (CST) and will start under the lighted arches, closer to the entrance of Garvin Park off Morgan Avenue. The course consists of 3 laps around the park and through the Ritzy's Fantasy of Lights event. It finishes back under the arches at the same point where the start took place.
The 1-mile walk begins at 6:15pm (CST) near the lighted arches, closer to the entrance of Garvin Park off Morgan Avenue. We ask that no one begins to walk until this time in order to keep racers & walkers safe. You may begin your walk anytime between 6:15pm and 8:30pm (CST).
The park lights will shut off at 9pm.
Can I Walk the Race?
You may run or walk this race but we ask that you keep a pace to be completed within an hour. Only runners will be awarded.
Awards
Awards will be given to runners who run and finish the fastest in the top 2 of their age brackets, listed below.
Ages 1-10
Ages 11-18
Ages 19-29
Ages 30-39
Ages 40-49
Ages 50-59
Ages 60-69
Ages 70+
There will be an Overall Female and Overall Male run award given as well.
There are no age groups for those who register for the walk portion of Bright Lights for Easterseals. To be eligible for prizes as a walker, you must finish in under one hour.
Cost
The cost for the 5K run event is $25 and includes a t-shirt. After November 18, 2022, the registration fee increases to $30 and there isn't a guarantee for a t-shirt or sizing.
The cost to walk is $5 per person. Children under 2 years old are free, however donations are still accepted. T-shirts are not included in the registration fee for the walk, however you may purchase a shirt for $20 before November 15.
Register to walk before November 18 and you will receive a special bracelet!
Please check-in at the registration tables prior to the start times.
Proceeds from "Bright Lights" help underwrite inclusive early education and therapy services for local kids and adults with disabilities at the Easterseals Rehabilitation Center.
Packet Pickup
Packet pickup is at Ultimate Fit, Tuesday, December 6 from 3-5pm (CST). Packets will also be available at Garvin Park on event day from 4-5:30pm (CST).
Place
Through Ritzy's Fantasy of Lights in Garvin Park. Starting point is under the lighted arches, close to Morgan Avenue entrance to Garvin Park.
Inclement Weather
In case of inclement weather, the decision to have the race or not will be determined upon event day. There will be no refunds but the race/purchased shirts will be available for pickup. Information will be further provided at that time.
More Info
Questions about "Bright Lights for Easterseals" may be directed to Rhonda Trail, volunteer race director, at rhonda_trail@yahoo.com.
---
Special thanks to the Evansville Department of Parks & Recreation for their continued support of Ritzy's Fantasy of Lights in Garvin Park.