Bright Lights for Easterseals 5K Run & 1-Mile Walk
Join us Dec. 1 for this unique run/walk through Ritzy's Fantasy of Lights!
ON WEDNESDAY, DEC. 1 ONLY, Ritzy's Fantasy of Lights will be closed to vehicles and carriages, and open ONLY to runners, walkers, and persons using wheelchairs or other mobility equipment for "Bright Lights for Easterseals" – a 5K timed run and 1-mile walk!
5K RACE
The 5K timed race begins at 5:45 p.m. and will start under the lighted arches closer to the entrance of Garvin Park off Morgan Ave. The course consists of three laps around the park (through Ritzy's Fantasy of Lights) and finishes back under the arches at the same point where the start took place.
You may run or walk this race, but we ask that you keep a pace to be completed within an hour. Only RUNNERS will be awarded, as there will be no way of determining whether a walker actually walked the entire race.
Awards will be given to runners who finish in the top two of their age brackets, listed below.
Awards will be given to those who RUN and finish the fastest in the following age groups:
10 and under
11-18
19-29
30-39
40-49
50-59
60-69
70 and up
There will be an Overall Female and Male RUN Award given as well as age groups for Men and Women in the listed age groups.
For the WALKERS who register for the 5K timed race, there are no age groups, but to be eligible for prizes, you must finish in under one hour.
The cost for this event is $25 and includes a t-shirt. After November 15, the cost will raise to $30 and there isn't a guarantee for a t-shirt.
The first 60 people that register for the race ($25 fee) will receive a long-sleeve t-shirt instead of the short-sleeve t-shirt!
1-Mile Walk
The 1-mile walk is not a timed event and will begin at 6:15 p.m. We politely ask that no one begins to walk until this time in order to keep the racers safe. With the lack of light on the course, it is imperative that everyone is safe while there are runners still out.
The starting point for the walk is near the lighted arches at the entrance to Garvin Park closer to Morgan Ave. You may begin the walk any time between 6:15 p.m. and 8:30 p.m. The park will go dark at 9:00 p.m., thus no one will be allowed to begin a walk after 8:30 p.m.
The cost for the walk is $5 per person. Proceeds help underwrite inclusive early education and therapy services for local kids and adults with disabilities at the Easterseals Rehabilitation Center. Please check in at the main registration table and give your donation before you begin your walk. Children 2 and under are no cost with donations still accepted. T-shirts are NOT included with the $5 admission. You may purchase Bright Lights t-shirts for $20. The last date to purchase extra shirts is November 15, 2021.
In case of inclement weather, the decision to have the race or not will be determined upon event day (Wed., Dec. 1, 2021). There will be no refunds but the race/purchased shirts will be available for pickup. Further information will be provided at that time.
Questions about "Bright Lights for Easterseals" may be directed to Rhonda Trail, volunteer race director, at rhonda_trail@yahoo.com. Children must be accompanied by a parent or adult guardian. No pets are allowed except service animals.
---
With the exception of Dec. 1, Ritzy's Fantasy of Lights is open to vehicles nightly from Thanksgiving Day to Jan. 1, 5-9pm Sun.-Thur. and 5-10pm Fri.-Sat. The cost for vehicles with up to 6 people is $7; 7-14 people $10; 15 people or more $25. Admission is cash only. Carriage rides are available, weather permitting, for $30, which includes admission for up to 6 people. Please click here for more details on Ritzy's Fantasy of Lights.
All proceeds help fund inclusive early education and therapy services for local children and adults with disabilities served by the Easterseals Rehabilitation Center.
Special thanks to the Evansville Department of Parks & Recreation for their continued support for Ritzy's Fantasy of Lights in Garvin Park.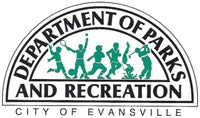 Last updated: October 26, 2021