Celebrating 75 years of serving our community!
2021 is the diamond anniversary of our local Easterseals.
The Tri-State's local Easterseals marked its 75th year of serving the community with a press conference and Facebook Live event Wed. evening, Jan. 13, 2021. In keeping with the 75th anniversary traditionally being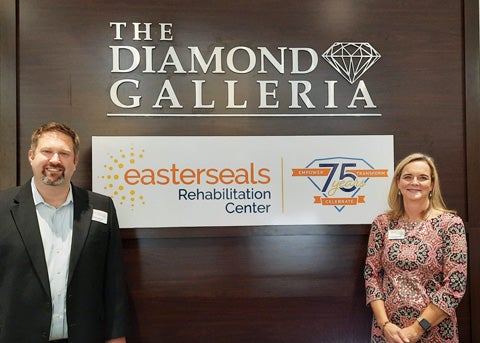 the "diamond anniversary," the kickoff was hosted by long-time supporter The Diamond Galleria in Evansville. It was the first event in a year-long celebration that is expected to incorporate many activities throughout 2021.

Featured speakers at the kickoff included Easterseals 2021 Board Chair John Raisor and Easterseals Rehabilitation Center President/CEO Kelly Schneider. They unveiled a special 75th anniversary log, which was developed with generous assistance from a Berry Global creative team.

The Diamond Galleria owner Bert Wheat presented Easterseals with a pair of diamond earrings for use with a special diamond anniversary fundraising effort. Those fundraising plans will be announced soon.

John Raisor spoke about the organization's long history. Raisor has a strong connection with the nonprofit, as his father Ray Raisor was the nonprofit's longest serving President/CEO before retiring in 2015.
John Raisor explained that Easterseals' local presence began in the 1940s, when local children with disabilities needed braces, wheelchairs, hearing aids, and services that weren't yet available in the area. Local leaders spearheaded efforts to raise funds to meet those needs. In 1946, those leaders incorporated the organization that eventually became the local Easterseals. By 1950, they opened a preschool program for children with disabilities. In 1957, the Easterseals Rehabilitation Center opened at 3701 Bellemeade Avenue in Evansville. It was the first freestanding facility in the U.S. constructed specifically to provide outpatient rehabilitation services. In the years since then, Easterseals has continued growing and transforming to meet the community's changing needs. Tens of thousands of children and adults have achieved their own goals for independence with the help of Easterseals services.

Kelly Schneider, President/CEO of the Easterseals Rehabilitation Center, described three themes for the anniversary year: EMPOWER, TRANSFORM, and CELEBRATE. Schneider said the themes will be incorporated into activities throughout the year. Events now in the planning stages include the annual Easterseals Telethon (which airs on ABC 25) and a late summer Easterseals Tribute gathering.
---
Diamond Dollar$ Fundraiser
Help us celebrate with the new Diamond Dollar$ fundraiser!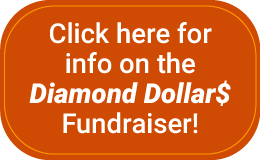 Last updated: January 26, 2021