A Parent's Perspective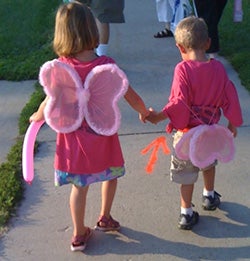 Our daughter Rio was diagnosed with PDD-NOS, on the autism spectrum. Wanting to continue her education in the summer, we decided that the Easter Seals Iowa Bob & Billie Ray Child Development Center was the best place for her. Not only did it allow her to interact with her peers everyday, but her staff also worked with her on her goals from school in the course of her daily activities. Her Easter Seals Iowa staff went out of their way to engage Rio and make sure she did not miss out on any social interactions.
Both summers that Rio attended the Child Development Center, we noticed marked improvements in her behavior. She made her first friend there and was so excited to come home and tell us about her. Her language blossomed and she also became adept at managing a schedule and making transitions. She also began to use words to explain her feelings, telling us she was sad instead of throwing a tantrum. Most people take for granted being able to have a conversation with their child, for us it was a gift.
Rio loves attending the Bob & Billie Ray Child Development Center, or "Camp" as she calls it since it is located at Easter Seals Iowa Camp Sunnyside. She tells everyone about the boating and the horses.
Being able to send our daughter somewhere where her abilities were cherished and her disabilities were accommodated has been a blessing.