For Immediate Release
Merchants Bonding Company Foundation Raises $152,000 for Easterseals Iowa
September 25, 2018
Media Contact:
Therese Wielage
515-558-8721
https://www.merchantsbonding.com/
Jessica Brown
jbrown@eastersealsia.org
515-309-2396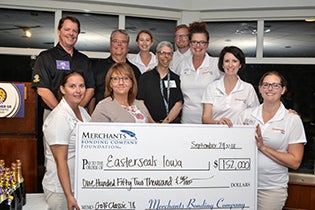 The Merchants Bonding Company Foundation's 5th biennial Bill Warner Sr. Memorial Charity Golf Classic, held Monday, September 24, raised $152,000 for Easterseals Iowa. The support received from 200 golfers, 63 corporate sponsors and many generous donors from across the country will allow Easterseals Iowa to purchase new accessible vans to enhance and support its programming.
"Easterseals Iowa is a truly exceptional organization that is making an incredible impact on the lives of some very special people," said Merchants President Larry Taylor. "We are thrilled with the support we received from so many people for our efforts to help Easterseals Iowa and celebrate Bill Sr.'s passion for life."
Easterseals Iowa President/CEO Sherri Nielsen says, "Transportation is a key component to the independence of our clients, and we are overwhelmed at the generosity of our friends at Merchants Bonding. Because of the Bill Warner Sr. Memorial Charity Golf Classic, we can purchase two new accessible vans to ensure our clients have access to the community. Access to health care, access to community spaces, access to shopping and access to social experiences that increase quality of life. Their team has not only provided us this wonderful gift but has also invested in our mission by volunteering at Camp Sunnyside. We are so thankful for their support."
Check out more photos from the event here.

Merchants Bonding Company was founded in Des Moines in 1933 and is led by fourth generation family members. The company ranks 15th among the top surety providers in the United States and is number one in Iowa. Merchants Bonding has had an A.M. Best Rating of "A" excellent for 58 consecutive years.