For Immediate Release
Clive Resident Inspires Inclusive Future as Part of Easterseals' 2019 Rose Parade® Float
Reagan Crabtree To Ride on Easterseals' First Rose Parade Float, Which Celebrates 100 Years of Disability Services
Des Moines, IA, December 12, 2018
Media Contact:
Jessica Brown
jbrown@eastersealsia.org
515-309-2396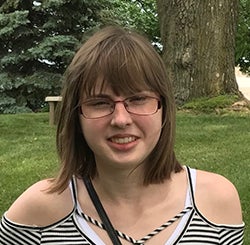 Clive resident, Reagan Crabtree, will head to Pasadena, California, later this month to partake in the iconic Rose Parade® on New Year's Day. Reagan will ride atop Easterseals' first-time float entry, "Celebrating Easterseals: 100 Years of Disability Services." The float honors the organization's 100th anniversary of providing disability services, and its dedication to building a more inclusive future.
About Reagan
Reagan is one of nine Easterseals clients and three staff members from across the country selected to take part in the annual parade as a representation of the diverse Easterseals communities throughout the country. Reagan, age 20, receives services from Easterseals Iowa, in Supported Education. In high school, Reagan had a lot of built-in support with her family and in the West Des Moines School District. However, when she started college, she knew very few people but wanted to go somewhere to start fresh, make new friends and try new adventures. Through the assistance of Easterseals Iowa and her own initiative, she is steadily forging ahead and learning how to successfully live independently. Her most recent big step in this direction is that she is now living in the Iowa State University dorms and going to school at both Iowa State University and the DMACC Boone Campus.
Reagan helps others learn about disabilities through her advocacy, including advocacy about her diagnosis, apraxia. She is a self-proclaimed news junkie and loves social media, current events, and politics. With her communications degree, she plans to go into broadcast media as a reporter.
President of Easterseals Iowa Sherri Nielsen says, "Our mission is to bring clients to independence, and Reagan advocates and perseveres no matter the challenges she faces. This is an amazing once-in-a-lifetime opportunity for Reagan, and we are so excited to support her and celebrate with her as she has this amazing experience at the Rose Parade® representing Easterseals."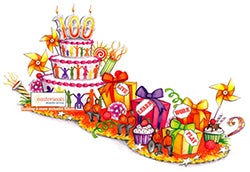 About the Easterseals Rose Parade® Float
"Celebrating Easterseals: 100 Years of Disability Services" will be a vibrant floral display to celebrate the 1.5 million people Easterseals provides disability services to each year nationwide. A 20-foot-tall birthday cake iced in crisp white coconut flakes and lined with more than 3,000 hot pink Princess roses will serve as the centerpiece of the float. Flickering 100th anniversary candles and images of people with and without disabilities joined together near a swirl of orange and yellow marigolds and gold strawflower complete the floral cake.
To celebrate Easterseals' vision of building a more inclusive future for the more than 61 million Americans with disabilities, playfully wrapped packages on the float will highlight the organization's breadth of exceptional services to make sure people with disabilities have every opportunity to "live", "learn", "work", and "play" in their communities.
The 2019 Rose Parade presented by Honda will air on January 1, 2019.
About Easterseals
2019 marks 100 years that Easterseals has been the indispensable resource for people and families facing disability. Through the work we do in communities across America, Easterseals is changing the way the world defines and views disability by making positive, profound differences in people's lives every day. For more information visit www.easterseals.com. To learn more about Easterseals Iowa services or to stay up-to-date on upcoming events, please visit www.eastersealsia.org.
About the Pasadena Tournament of Roses®
The Tournament of Roses is a volunteer organization that hosts America's New Year Celebration® with the Rose Parade® presented by Honda, the Rose Bowl Game® presented by Northwestern Mutual and a variety of accompanying events. 935 volunteer members of the association will drive the success of 130th Rose Parade themed "The Melody of Life," on Tuesday, January 1, 2019, followed by the 105th Rose Bowl Game. For more information, visit www.tournamentofroses.com. Like us on Facebook and follow us on Twitter, Instagram and YouTube.