EnviroShred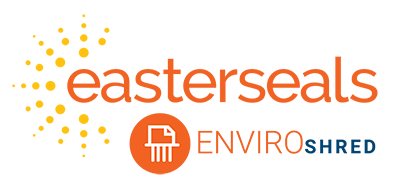 About EnviroShred
EnviroShred opened its doors in 2008 as a social enterprise of Easterseals Capital Region & Eastern Connecticut, Inc. The self-sustaining business was developed in order to provide employment, training and rehabilitation opportunities for individuals with disabilities as well as provide income to support the overall mission of Easterseals.
The NAID-certified business is a safe, secure and environmentally responsible means of destroying confidential information. EnviroShred works in accordance with all state laws and regulations and maintains compliance with Federal Government standards for document disposal.
EnviroShred operates as a social enterprise of Easterseals, directly employing individuals with disabilities and fulfilling their goals of independence, self-sufficiency and community integration.
Simply put, using EnviroShred means entrusting your secure information to an industry leader.
Our Mission
To provide comprehensive medical and vocational services to people with disabilities in order to maximize their independence and self-sufficiency. We believe that all people have a desire and right to live with dignity and to be responsible for their own welfare and destiny.
Reasons to Use EnviroShred
CRA (Community Reinvestment Act) credits for Banks and Credit Unions
24/7 Camera Monitoring
Platinum Level of Security
Online Viewing of "Shred Line" available for corporate internal auditing
Dependable, Trustworthy & Socially Responsible
EnviroShred Services
EnviroShred will provide a consultation at no charge and design an information destruction program to best fit your needs.
Pick Up Services: we offer weekly, bi-weekly, monthly or customized pickup schedules that meet your needs
Document Purges: secure document destruction for personal and business uses
Drop Off Services: EnviroShred allows documents to be dropped off during normal business hours (Monday-Friday 9 am to 3 pm). The EnviroShred address is 22 Prestige Park Circle, East Hartford, CT 06108.
Interested in EnviroShred and would like to learn more? Contact Mark Papuga for more information at 860-728-1061 or mpapuga@escrec.org.