Easter Seals PERS: Janet's Story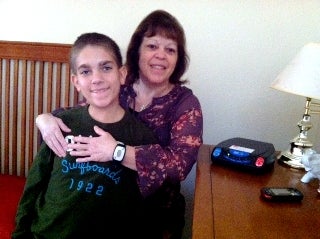 I am a PERS subscriber. This is my story.
I am Easter Seals.
My name is Janet and I have been a diabetic for 52 years (which is all my life). Back in 2003, I acquired the Personal Emergency Response Service (PERS) from Easter Seals. Before having this service, I would have diabetic episodes, unable to help myself. I live with my parents and every year when they would go on vacation, my anxiety of thinking I would be alone and not have help would actually cause a diabetic episode.
My sister told me about Easter Seals PERS, and I thought it would be a great idea and subscribed. My son Anthony was 4 years old at the time (he's 13 now, pictured with Janet along with the PERS bracelet and responder). When I had the equipment installed, I taught him how to press the button if mommy wasn't "right".
Just the idea of having this service in my home and gives me the peace of mind I need. In fact, I have yet to have a diabetic episode. Before, I was anxious of being alone. Now, I am equipped with the knowledge that someone will always be there fore me when I need help. My parents now have peace of mind knowing they can leave and go on vacation. It was the best decision I ever made and am very thankful to Easter Seals for providing me with not only the service, but excellent customer service as well.
For more information about Easter Seals PERS, call 407-629-1757 in Central Florida, or toll free at 1-877-347-3257 for all other areas.