Learn
Easterseals provides programs designed to help children and adults learn—and often re-learn—basic functions, master skills needed to develop and thrive, and be sharp and active as they age.
The LEAP program in Naples is designed for adults with various developmental disabilities to participate in after they have completed school (ages 18+). LEAP provides a wide range of opportunities for members to proudly live, learn, work, and play in Collier County.
LEAP members will experience:
Community-based educational, volunteer, and work opportunities

Entrepreneurial projects

Goal setting and self-advocacy

Unique social, recreational, and team building activities

Daily-living, social skills, and pre-vocational training

Employability and interpersonal skill-building

Leadership opportunities

Individualized support
For information on the Easterseals Academy and LEAP contact:
Catrina Sanchez
Area Director
csanchez@fl.easterseals.com
8793 Tamiami Trail East, Suite 111
Naples, FL 34113
P: 239-403-0366
F: 239-403-0368
Easterseals Florida has the nation's largest network of inclusive child development centers for infants through preschool (0-5 years of age). In these settings, educators meet the needs of students (with and without disabilities) through the use of specialized approaches and instruction to prepare preschoolers for entry into the school system or to support current students to achieve at their highest level.
Easterseals Murray Child Development Center
2401 E. Henry Ave.
Tampa, FL 33610
P: (813) 988-7633
F: (813) 914-0403

Easterseals Igoe-Amar Child Development Center
213 S. Congress Ave.
West Palm Beach, FL 33409
P: (561) 471-1688
F: (561) 471-1966


The Easterseals Early Learning and Intervention Program (EELIP) provides gap early intervention services for children ages 0-5 years in Hillsborough County. Children experiencing delays in development but may not meet the eligibility criteria for Early Steps or Child Find are able to turn to Easterseals to receive early intervention services, parent education, and service coordination. This program is an in-home program with an option of some service occurring in the child's school setting.

Ages Served: 0-5 years old
Intervention services based on a referral from Early Steps or Child Find
*Generously funded by the Children's Board of Hillsborough County.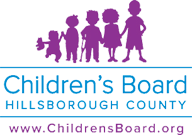 For More Information:
Cierra Smith, Intake Coordinator Cell: (813) 807-9726 csmith@fl.easterseals.com
Nydia Torres, Program Manager Cell: (813) 807-9717 ntorres@fl.easterseals.com