Easterseals Siblings Study
Download the Siblings Study and Findings
We apologize, but the selected Survey is currently unavailable.
Made possible through the generous support of
MassMutual Financial Group .



Easterseals Siblings Study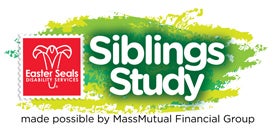 How is life different for adults who have siblings with developmental disabilities, many who have assumed – or will assume – primary caregiving responsibilities for their brother or sister with disabilities?
Easterseals Siblings Study sheds light on the experiences of sibling caregivers as well as insight on the services and supports they need:
80% of survey respondents say they have a close relationship with their sibling with a disability and that this relationship enhances their life;
Nearly 50% say their parents currently house and provide caregiving for their sibling with a disability while 14% say their sibling lives with them and another 23% say they are already the primary caregiver;
75% of primary caregivers say caring for their sibling is a full-time job, and 30% say they don't receive support – emotional, physical or financial help – from other friends and family;
Of respondents expecting to take on the role of primary caregiver in the future, 80% say they are comfortable taking on this role but they are much more likely to say they are emotionally prepared than financially prepared (60% vs. 33%).
Easterseals will use these findings to raise awareness of and advocate for the life-long services and supports families and caregivers need – working to lessen disparities and bridge the gap for people living with developmental disabilities across the country.
Easterseals thanks MassMutual for making the study possible. As an Easterseals national corporate partner, MassMutual is committed to serving children and adults with disabilities through its exclusive Special CareSM program, a solution that gives families living with disabilities access to more information, specialists, and financial strategies that can help improve their quality of life. Learn more about Special Care here.