Top 5 Tips for Diving into the Dating Scene When You Have a Disability
By Dr. Danielle Sheypuk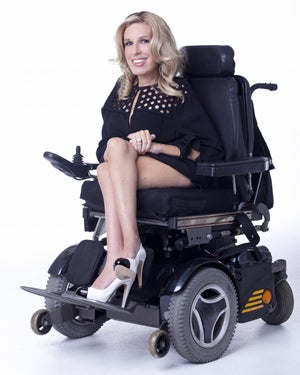 Dr. Danielle Sheypuk is a licensed clinical psychologist who specializes in dating, relationships and sexuality among people with disabilities. She's tested her own advice first-hand, living and dating with a disability in New York City. She was Ms. Wheelchair New York City in 2012 as well as an Easterseals poster child as a young girl. Here's her tested advice, exclusively for easterseals.com.
As a single Manhattanite, my overarching advice is simply to put yourself out there "on the market." As a psychologist, I can say that the key to making this happen successfully is to change your perception of yourself. Cultivate your self-image as a person who is dateable, desirable, has a lot to offer a partner, and is capable of finding romantic love. Because you are!
Both pieces of advice are more easily said than done. But digesting and internalizing some of my favorite tips, which I also offer in my private practice, can help you successfully integrate into the oh-so popular dating scene.
1. Get into online dating.
This is a fantastic way to be exposed to diverse, interesting people from all over the world. Put up a well-written profile, which should include a brief acknowledgement or explanation of your disability, without revealing information that you feel is uncomfortable or is too much. I also recommend that you include pictures that show your disability. The dating world is very visual, so put up some well-posed shots. This strategy reduces the anxiety that is naturally present on any first date.
2. Become familiar with the qualities that you have to offer a romantic partner.
Everyone has got at least a handful, so no excuses! List the qualities that you are looking for in a romantic partner. Remember, you are evaluating whether they will make a suitable candidate for a relationship as well. Finally, identify and become familiar with your features that you believe are sexy. No excuses here either - everyone has got a few, from sexy eyelashes, gorgeous hair and great curves, to a flirtatious style.
3. Put yourself into social situations that will promote your meeting a significant other.
Joining a meet-up group or taking a cooking class can introduce you to people you wouldn't normally come across in your daily routine. Sometimes the organic meeting of someone with whom you feel that notorious chemistry spark is a nice alternative to the often prolonged online get-to-know-you process.
4. Realize that it is not weird to date with a disability
You have desirable parts and undesirable parts, just like everyone else. Maybe the person you are on a date with has never been on a date with someone in a wheelchair, but that doesn't make you the odd one out. It's simply statistics. Tell your family and friends to get on it too! Remind them that you are an eligible bachelor/bachelorette, and ask them to keep their eyes open for an opportunity to set you up on a date.
5. Take the good with the bad.
I guarantee that you will have some bad dates, with experiences that go beyond the uncomfortable. But so does everyone. I always keep this in the back of my mind when I'm sitting across from a loser and dream about the great little paragraph this unfortunate date will make in my future book.
The scenario of get-out-there-and-get-'em, combined with learning to view yourself as a "dateable" person, will yield positive results. Our society is also changing, becoming more accepting and open-minded when it comes to dating people with disabilities. And, when you, as a person with a disability, become active on the dating scene, you are helping to enlarge the population of people who can say, "Yeah, I dated someone with a disability. It's no big deal. It was actually pretty awesome."
Visit Dr. Sheypuk's website for more information
Read more about love, dating and relationships today