Mental Health Resources During COVID-19
As many of us continue to stay at home and adhere to social distancing guidelines to fight the coronavirus pandemic, we need to remember that social isolation can be extremely difficult, especially for those people who are struggling with their mental health. That's why we're taking extraordinary steps to keep our vital mental health programs and services running for people with disabilities, veterans, seniors and their caregivers – when they need them the most.

Easterseals CEO Angela Williams Talks Mental Health with Patrick J. Kennedy
On a special FACEBOOK LIVE "Conversations with Angela" event, Easterseals CEO Angela Williams was joined by former U.S. Congressman Patrick J. Kennedy, leading mental health innovator and advocate, to discuss what mental health looks like in the age of the pandemic. "Like" Angela Williams on Facebook.
→ 360 Magazine: Mental Health and the Coronavirus - by Angela F. Williams and Patrick J. Kennedy
Mental Health Resources and Services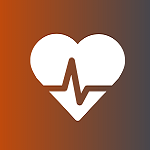 Find Mental Health Services at a Local Easterseals Near You
Our therapists, educators and caregivers are staying connected and providing critical services through virtual and telehealth appointments.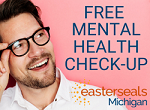 Take a FREE Mental Health Screening Online
Easterseals Michigan has provided a free online screening to help you check in and help you establish the next step toward getting treatment.
How to take care of your mental health - AARP
Online Mental Health Resources for Coping with Coronavirus-Related Stress
Campaign to Change Direction - Stop the stigma around mental health
Advice and Perspectives from the Easterseals Family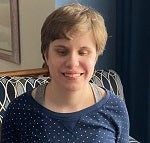 Alicia's COVID-19 Diary: The Importance of Mental Health
It's important to check in as we continue to stop the spread of COVID-19. Not only should we keep track of our health physically, but mentally as well.
May is Mental Health Awareness Month
The Pandemic Mental Health Advice Not Enough People are Talking About
7 Tips To Improve Your Mental Health During Quarantine
Occupational Therapy Mental Health Series: Breathing Exercises
Mental Health Success Stories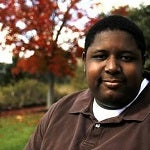 A Journey with Feeling Different
A journey with feeling different – that's how Luther Saint-Joy describes his life. Luther's journey has been marked by social and developmental barriers, by emotional pain, perseverance and courage.