Easterseals Living with Disabilities Study
We apologize, but the selected Survey is currently unavailable.
Made possible through the generous support of
MassMutual Financial Group .



"I constantly worry about our son and what his future holds, and how he will fare after we die."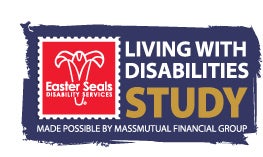 Our Living With Disability Study paints a startling picture of the life-long challenges surrounding everyday life and future concerns for parents of adult children with disabilities and adults with disabilities.
Many parents worry their adult children's basic needs for employment, housing, transportation, social interactions, recreation, healthcare and financial security will not be met:
Only 11% of parents of adult children with disabilities report their child is employed full time.
Just 6 in 10 parents of adult children with a disability rate their child's quality of life as excellent or good (61%), compared to 8 in 10 parents of adults without a disability (82%).
Huge gaps exist in parents of adults with disabilities' assessment of their child's ability to manage their own finances (34% vs. 82% parents of adults without disabilities) and have the life skills necessary to live independently (30% vs. 83% parents of adults without disabilities).
Nearly 7 in 10 adults with disabilities (69%) live with their parent(s) or guardian; only 17% live independently compared to more than half of adult children without disabilities (51%).
Easterseals will use these findings to raise awareness of and advocate for the life-long services families desperately need—working to lessen these disparities and bridge the gap for the many people living with developmental disabilities.
Easterseals thanks MassMutual for making the study possible. As an Easterseals national corporate partner, MassMutual is committed to serving children and adults with disabilities through its exclusive SpecialCareSM program, a solution that gives families living with autism and other disabilities access to information, specialists, and financial strategies that can help improve their quality of life. Learn more about SpecialCare here.