Sensory-Friendly Halloween Alternatives
Options the whole family will love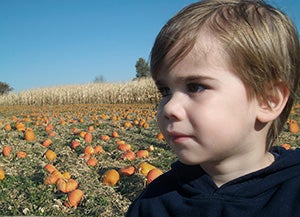 Loud noises, scary characters and uncomfortable costumes aren't for everyone, and they can be especially unpleasant for children with sensory disorders. If your child isn't into trick-or-treating, there are other ways to get in on the Halloween fun. Here are some ideas for Halloween traditions that are enjoyable for everyone, including children with Autism Spectrum Disorder (ASD).
Pumpkin Picking
Picking pumpkins is a staple Halloween tradition. Once you bring the pumpkin home, carve and decorate the pumpkin together. An added bonus? Scooping and removing pumpkin seeds can be a great sensory activity for children with ASD. Exploring all of the shapes and textures or various gourds could be a fascinating sensory exercise too.
Movie Night with Treats
A sensory-friendly movie night is a great alternative to the hustle and bustle of trick-or-treating on Halloween night. Instead of worrying about sensory triggers in the neighborhood, why not just have a fun night watching your favorite films at home? Break out the popcorn balls and Halloween treats in your living room.
Boo-tastic Dinner
Dining out this Halloween could be lots of fun for everyone. If your children are up for it, invite the entire family to dress up in their favorite costumes for the outing. If you're lucky, you might also avoid the large dinner crowds who've opted to go trick-or-treating instead. Offer your children a special treat as part of your Halloween dinner.
Sensory-Friendly Halloween Party
There are many elements of Halloween that can be unpleasant for kids with social, communication and sensory issues. You can focus on what your child enjoys by throwing a small, sensory-friendly Halloween party at your home. After all, who doesn't love a good party? Include activities that avoid sensory triggers.
Explore more ways to make your Halloween festivities fun for everyone here.