Living Tobacco Free: A Toolkit for Military and Veteran Family Caregivers
Living Tobacco Free: A Toolkit for Military and Veteran Family Caregivers
Guest speakers come together to talk about easy and effective tips and tools for Military and Veteran Caregivers to live a tobacco-free life.
Speaker: Meredith DeViney
Meredith DeViney joined Atlas Research in 2014 to support the Easterseals' National Veteran Caregiver Training Program (NVCTP) sponsored by the VA. For the NVCTP she contributes to the development of Caregiver educational products and training deployment to over 30,000 VA Caregivers of post-9/11 injured Veterans. Ms. DeViney coordinates NVCTP training throughout the country for the Caregivers of severely injured Veterans to improve the health and well-being of the Caregiver, the Veteran, and their family. Ms. DeViney also assists in the management of the cadre of professional Caregiver Trainers for face-to-face education to ensure a standardize implementation and quality experience for all Caregivers that attend NVCTP's Self-Care Courses.
Prior to joining Atlas Research, Ms. DeViney was the Director of Administration for the American Hospice Foundation, a healthcare consumer advocacy group. While at the Foundation she was responsible for production and distribution of educational and outreach materials. Additionally, Ms. DeViney managed several grants on the topic of pain assessment in patients with dementia, as well as contributed to various published research on the topic of assessing quality of care in hospice.
Speaker: Bill Blatt
Bill Blatt is National Director of Tobacco Programs for the American Lung Association. He has been with the American Lung Association since 2003 and is responsible for all of the Lung Association's health education programs, activities and messages related to tobacco prevention and cessation. Bill's accomplishments at the Lung Association include the creation and release of new editions of their adult cessation program Freedom From Smoking® and the new Freedom From Smoking® Plus, as well as Not On Tobacco® (N-O-T), America's most widely used smoking cessation program for teens. Bill was also lead author of the 2010 report Smoking Out a Deadly Threat: Tobacco Use in the LGBT Community, and project director of the 2012 report Cutting Tobacco's Rural Roots: Tobacco Use in Rural Communities, both part of the Lung Association's Disparities in Lung Health series. Bill played a major role in Expanding Smokefree Communities, a federally-funded project to improve health equity through community-level systems change efforts including smokefree multi-unit housing and integrating tobacco screening and referral into health systems. Bill has a Bachelor of Science and a Master of Public Health degree, both from the University of Arizona.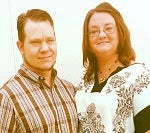 Elizabeth Dole Fellowr: Heidi Woodring of Nevada
Heidi supports her Army veteran husband of 16 years, Chris, by caregiving for his PTSD, major depressive disorder, knee and back ailments, distal tip amputation and other health-related issues. It's full-time transportation, emotional, medical, financial and essentially all-encompassing personal and household care that coexists with the needs of three kids, ages 7, 13 and 17, and elderly grandparents.
Heidi's helping hand also extends outwardly to other wounded warrior families and caregiver communities. For three consecutive years between 2013 and 2015, Heidi was awarded the President's Volunteer Services Award for her work with Operation Homefront and Hearts of Valor. She enjoys advocating for other caregivers, and bringing awareness to the caregiver's life and struggles in her role as an Elizabeth Dole Fellow.