Caregiving and Intimacy
Caregiving and Intimacy: A Practical Approach for Caregivers and Their Veterans
Please join Easterseals for our latest webinar on military relationships and intimacy. As covered in our first intimacy webinar, military relationships are difficult under normal circumstances. A wound, illness or injury can significantly change your relationship.
Amy E. Taklif, MSW, LSW, will expand on our first webinar by providing straightforward information and practical advice for those who struggle with intimacy and sexuality issues within their caregiving (or "care partner") relationship. Ms. Taklif will discuss ways in which to change your sexual / intimacy dynamic, reframe your perceptions and make it all a little easier for everyone involved. Please note: there may be discussion and language of a frank and explicit nature during this presentation.
Speaker Bio: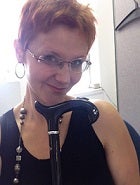 Amy is a medical social worker, disability advocate, mother, wife and caregiver who was also diagnosed with multiple sclerosis in November of 2009. She has been working in the field of disabilities for over twenty years in numerous capacities including as a home health aide, a direct care worker, a reader/writer for people with visual impairment, and an in-home cognitive rehabilitation specialist for people with brain injuries. For several years, she worked as a family support specialist for the American Red Cross September 11th Recovery Program with people who were injured during the World Trade Center attacks. Amy served as the inaugural Fund manager for the New Jersey Traumatic Brain Injury Fund before being promoted to the position of New Jersey State Traumatic Brain Injury Specialist. She currently serves as a medical social work analyst in a state-run program for families who have children with medical conditions and disabilities. She leads a monthly support group for people with multiple sclerosis and serves on a number of advisory panels. Amy also provides in-services, trainings and presentations on a wide variety of disability-related subjects, focusing primarily on disability etiquette and sexuality issues.
Dole Fellow Bio:
In 2011, as Kathleen prepared to finish her college degree, her husband of eighteen months, Aaron, was catastrophically injured while attempting to disarm an IED in Kandahar, Afghanistan. The blast would cost him double-above knee amputations, multiple injuries to his hands and arms, a TBI and a fertility-threatening wound. Life and marriage changed in an instant. While Aaron spent the next two years recovering, Kathleen found speaking opportunities to share her experiences as a young caregiver spouse. In March 2013, USO Metro awarded Kathleen the John Gioia Patriot Award.
That same year, while pursuing the potential of IVF for starting a family, Kathleen became pregnant. Their journey with infertility and conception was documented in the award-winning short documentary "The Next Part." In 2014, Kathleen served on a panel for The Bob Woodruff Foundation's "Intimacy After Injury" conference, the first of its kind to openly explore the often unspoken injuries and effects of war. Kathleen's efforts led to an invitation to introduce First Lady Michelle Obama in May 2015 at the Elizabeth Dole Foundation summit and last November, she starred in the Lifetime special, "Women of Honor".