Understanding Aging and Caregiving Needs
How Aging Has Changed Over the Years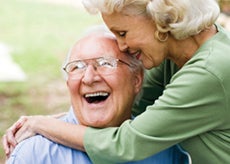 Most people think about their own aging experience in terms of how their parents or grandparents, friends or colleagues have aged. Others form their perceptions from news stories, via television, films and books, or through social media and advertising. The reality is everyone's aging experience – and that of your loved ones – is individual and unique.
People say "70 is the new 50"—and it's true, aging is very different today than even 20 years ago. Because of medical innovations and better health in general, the onset of chronic conditions happens later than among previous generations. For most, modern medications also help to minimize medical conditions, improve quality of life and extend life expectancy. Aging today is based more on overall health and function than the number of years lived. Good news for all of us!
Understanding what today's aging means will help you and your loved ones better plan for the future, know what resources are available to you, and make aging gracefully within reach no matter the number, whether 55, 70 or 90.
Easterseals and Mass Mutual Financial Group are working to do just that through this information. We also worked together on a caregiving study as well as profiles of the many types of caregivers out there.
Next step: Making Caregiving Decisions
This content is brought to you by...