Caregiving Stories: The New Faces of Caregiving
Taking care of an elderly parent, though increasingly common these days as Baby Boomers age, isn't the only form of caregiving. If you care for a child with a disability, a sick sibling or an injured veteran, you're a caregiver. And you're certainly not alone. There are more than 67.5 million American adults who are caring for someone who is ill, disabled or aging—that's 29% of the adult population—according to the National Alliance for Caregiving and AARP.
We want to break through stale perceptions of what a caregiver is and show you the many faces of caregiving in today's world.
Delve into our resources—like organizational apps for caregivers—plus heartfelt stories and blog posts below. Let us know what you think on Facebook.com/EasterSeals or our blog. Plus download our new caregiving study.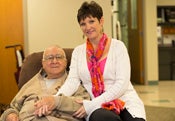 Caring for a Friend or Neighbor
Missy and Frank: Neighbors in Need
Caring for a neighbor with Alzheimer's
Caring for a Spouse
Caring for a Spouse with a Disability
Stepping Into the Caregiver Role Unexpectedly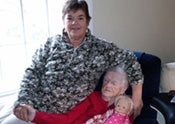 Caring for Parents
Caring for Both Parents
Caring for Children with Disabilities
Caring for a Child with Disabilities Full-Time
Finding Caregivers for Children with Disabilities
Caring for Siblings
Caring for a Sister with Down syndrome
Useful Caregiving Resources
7 Gift Ideas for Caregivers
A Guide to Help Care for Aging Parents
Download our Many Faces of Caregiving study
Easterseals Blog Posts on Caregiving
I'm not mad at my my mother; I'm mad at Alzheimer's
A millenial shares her experience with caregiving