Rural Caregiving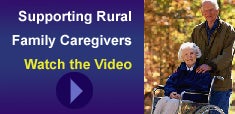 "Supporting Rural Family Caregivers"
Presented by the Centers for Medicare & Medicaid Services
and DHHS New Freedom Initiative Subcommittee on Caregiving
This 2008 video focuses on the difficulties rural family caregivers face and how to support them in areas with manpower shortages, transportation challenges and limited provider agencies. Jed Johnson, assistant vice president of Adult and Senior Services at Easterseals, addresses issues related to adult day services and transportation. Johnson features Easterseals' Caregiving in Rural America report (available below in PDF format). An Easter Seals Iowa Rural Solutions family caregiver also shares her moving story and the benefits of the AgrAbility Project. This video highlights creative responses to rural family caregiving such as consumer-directed care, and features effective rural family caregivers who have applied innovative means.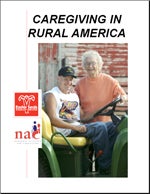 Download "Caregiving in Rural America"(19-page PDF)*
Download Errata (1 page PDF)*
Download Errata
Profile of a Caregiver in Rural America: Back to Wisconsin
(1 page PDF)*
Download a text-only copy of the Caregiving in Rural America report (14-page PDF)*
Additional Resource:
Envision Accessible Manistee! (9-page PDF) *
This Easterseals Rural Solutions Community Engagement and Accessibility Project helped the Manistee, Mich. community understand that by making its infrastructure, policies, and practices accessible to and supportive of people with disabilities it could strengthen its economy and the entire community would benefit.
Additional Resource:
The AgrAbility Project
The AgrAbility Project was created to assist people with disabilities employed in agriculture and agribusiness. The program also offers support to their caregivers.
Family caregiving in the United States today is emerging as a major policy issue. A staggering $306 billion per year is the estimated value of care provided by family members and friends of children and adults with chronic health conditions and disabilities.
More than one in five adults in the U.S. — 44.4 million people — provide unpaid care to an adult aged 18 years or older. Another 6 million people provide care to a child with a disability. These family caregivers live in urban, suburban, and rural areas of the country. Although many of their needs are similar, caregivers living in rural areas face unique challenges — whether they are providing assistance for a parent, spouse, family member, friend or neighbor.
Together in 2006, the National Alliance for Caregiving and Easterseals have produced a report, Caregiving in Rural America, to bring to light and support the demand to address the ever-increasing numbers and unmet needs of rural caregivers. Both organizations have a strong interest in caregiving, in the well-being of caregivers and care recipients, and in the challenges of providing care in special situations. In addition, both organizations have a commitment to exploring and addressing the unique needs and issues of rural Americans.
Caregiving in Rural America includes:
A brief description of the state of caregiving in the United States;
An overview of rural caregiving in the United States that highlights both similarities and differences between rural caregiving and that in urban and suburban settings;
Profiles of rural caregivers meeting caregiving challenges head on;
A Call to Action! Next steps to address specific rural caregiving needs;
Examples of programs in place to serve rural caregivers; and
References and resources.
Contributors To This Publication:

The National Alliance for Caregiving (NAC) is a nonprofit coalition of more than 40 national organizations. Focusing on issues of family caregiving across the lifespan, the NAC was founded in 1996 by the AARP, the American Society on Aging, the National Association of Area Agencies on Aging (n4a), the National Council on the Aging and the U.S. Department of Veterans' Affairs.
The Alliance conducts research, does policy analysis, develops national programs, and increases public awareness of family caregiving issues. Recognizing that family caregivers make important societal and financial contributions toward maintaining the well-being of those they care for, the Alliance's mission is to be the objective national resource on family caregiving with the goal of improving the quality of life for families and care recipients.
Principle Authors:
Gail Gibson Hunt, The National Alliance for Caregiving, president and CEO
Jed Johnson, Easterseals, vice president for strategic initiatives
Carol (Marie) Maus, Easterseals, former director of Rural Solutions
Mary Brugger Murphy, health writer and consultant
Advisers:
Jennifer Dexter, Easterseals, assistant vice president for government relations
Dennis Dudley, U.S. Administration on Aging, program specialist
Rick Greene, former U.S. Administration on Aging, program specialist
Kathy Kelly, Family Caregiver Alliance, executive director
Kristi Martin, former Easterseals, National AgrAbility Project, marketing and communications specialist
Donna Wagner, former Towson University, director of gerontology

*This document is in the Adobe PDF format. You will need to download free Adobe Acrobat Reader software to view these documents. If you do not have Acrobat Reader, you can download it for free by clicking on the Adobe graphic below.