More Than Just a Spouse
Elizabeth Wampler shares her experiences of being her husband's caregiver for almost 20 years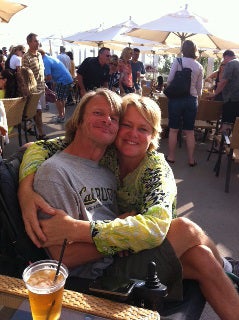 Is Elizabeth Wampler really a caregiver for her husband, who has cerebral palsy (CP)? Yes, but maybe not in the ways you'd imagine. Elizabeth shows that being cared for by your spouse, at any stage in life, is what marriage is all about—partnership rooted in care and love. She shares funny, candid details about her life as a caregiver and how Steve, in turn, cares for her.
Steve, my husband of 19 years, and the father of my two kids, has CP and uses an electric chair to get around. This is how I found him, the love of my life. In the beginning of our relationship, and when I was falling in love with him, I was also wondering how I would navigate such an usual life. I had questions: Did I want to live my life as a caregiver?

All these years later, all my questions have been answered, and we are left with a life in which we have agreed on a deal. If he can do something like make the bed or empty the trash (who am I kidding, that's what our kids are for) or do the banking or run to the grocery, he's up for it, and does it willingly. On the other hand, there are things that he simply cannot do.

After all these years, I've learned that as much as I might be Stephen's caregiver, he too, is mine. When our babies were new, and he couldn't hold them… he was by my side, and we learned together at that time, that his baby instincts were keen, no, they were laser. When I couldn't get our baby to stop crying to save my life, he would have an off-the-wall idea that would work without fail. It was uncanny. He was loyal and nurturing and balanced when I was hormonal and teary. He was masculine and assuring and present. And it saved me in our newborn days. He cared for me then, and he cares for me still. He's calm and patient, and brave.

And, yes, I care for him, too. I care for him when I have to cut his toe nails that grow seem to grow at warp speed. I have to pin his leg under me or he his leg will fly around like a garden hose, and he's terribly ticklish, so he flails and wriggles like he's being tortured. Plus, since he has ten of those bad boys, it's a long process. I'm always so excited when he asks me if I've seen the nail clippers. I'd rather…well, I don't know what I'd rather, but you see where I'm going.

He cares for me and I care for him. It's always been pretty smooth. Steve cannot drive or use a fork. I drive him and I feed him. When the kids were little, he "walked" them to school. He took them to the park and to story hour.

He fathers, disciplines, coaches and adores our kids with wisdom and maturity. He helps with math and science homework and I cover English and anything related to history or writing. It just works, and has always been all but unnoticed among the four of us.

We have teenagers now. They are spectacular kids, really, they're thriving, BUT it's like we have foreigners living in our house with us. They look like us, and we can vaguely remember them when they adored us and clung to us.

Talk about caregiving, we are surviving boy/girlfriends, and hormones and curfews and "that's-when-you-were-young, it's-not-like-that-anymores. Caregiving? Ha! We are clinging to each other for dear life! Toenails have nothing on teenagers.
Read more about the new faces of caregiving today
For caregiving resources, visit Easterseals.com/caregiving
Text FAMILY CARES to 80077 to join Easterseals mobile community and get more caregiving resources and information.
SMS Subscription service. Up to 4msg/mo. Msg&Data Rates May Apply. Text STOP to 80077 to STOP. Full terms:

mGive.com/E

Privacy Policy:

mGive.org/P