Make Sound Caregiving Decisions and Access the Best Resources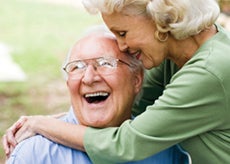 As caregivers—whether family members, friends or service providers—it is critical to understand that when our loved ones age and require care, they need to still drive all decisions about their individual health and supports, and should remain the key decision maker.
Family, friends, other professionals providing care need to assume the important role of care partners in the journey of aging.
It's challenging when we see loved ones making decisions we disagree with or believe to be not in their best interest. However, unless the person you provide care for is cognitively impaired—and a physician or judge determined he or she is unable to make independent choices—you need to respect those decisions. Your care partner role is to ensure your loved one's involvement and leadership in planning, in his or her decision-making both for the near and long term; providing information and resources on supports; helping to evaluate options; and advocating for those important decisions to be carried out.
National and State Resources for Older Americans
There are free resources available to Americans as soon as they reach the age of 60. Funded by the federal government as part of the Older Americans Act of 1965 and provided locally through Area Agencies on Aging or AAAs, they include:
Information and Assistance to find local resources for older Americans
Support Services to promote independence
Nutrition Programs
National Family Caregiver Support Program (these support services are also available to individuals under age 60 who are caring for a person over age 60) to provide respite services, education, training, and counseling to seniors providing kinship care, and to the caregivers of seniors
Health Promotion/Disease Prevention
Aging and Disability Resource Centers
Elder Abuse, neglect, and exploitation public education services
Visit the Benefits Check Up website to see if you or your loved one qualifies for any programs, and to connect to local resources. Benefits Check Up also can help to connect you with state programs or other opportunities in your local area.
There are also a variety of state-funded programs available to older individuals and their caregivers. Visit Eldercare Locator to find out more about local services for older adults and their loved ones. You can also call: 1-800-677-1116
Download our Caregiver Stress Checklist and Solutions
Next step: Essentials of Medicare and Medicaid
Additional Easterseals Resources:
This content is brought to you by....