Caring for a Child with Disabilities
Sharon Pike cared for her daughter full-time until she grew up
by Amber Travis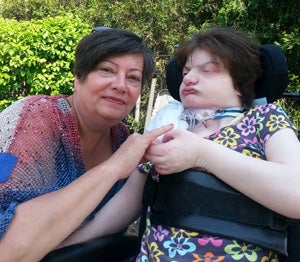 Sharon Pike and her husband, Dan, thought they had it all figured out 34 years ago.

First and foremost, they got married and knew they wanted to start a family immediately. "We never said, 'We're just going to have 2 kids and be done,'" Sharon says. "It was more like 'We're going to take what we can get.'"

Shortly after getting married, the couple had their first daughter, Stephanie, then Megan, Allison and Jack, whom Sharon refers to as her "little surprise" due to the seven-year gap between he and his older sister.

Although Sharon refers to all of her children as "gifts," it's Allison that Sharon says is "the best educator I've ever, ever had."

Allison was born with Cerebral Palsy and a deletion of her 10th chromosome. Individuals who are born with chromosome 10 deletion can experience learning and development disabilities.

Sharon says there were a number of complications during Allison's birth, including a lack of oxygen, which ultimately resulted in a substantial loss of motor skill development.

Before Allison's birth, Sharon and her husband had no idea about Allison's condition, but they knew something unexpected had occurred the minute she was born. "As soon as they did the C-section and pulled her out, the [doctor] said, 'Oh my god, this baby only weighs 3 pounds,' and I knew instantly that something was wrong."

A week later, Sharon read the results of Allison's neurology exam, and that was the moment her life changed forever. Sharon cried hysterically.

Then suddenly, something inside of her just clicked and she pulled it together.

"As soon as the doctor said to me 'We can find someplace for Allison to live,' Sharon says. "That was the minute I straightened up and said 'I'm a mother, I know how to be a mother, and I can figure this out. We will figure this out together,' and I've never looked back."

Doctors told Sharon and her husband that Allison wouldn't live past her first birthday. Allison is now 25 years old.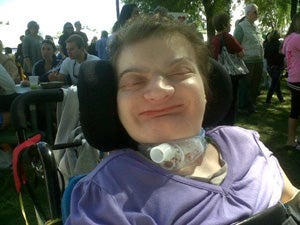 "She came close many times [to dying], but she beat the odds every time," Sharon says. "It really speaks to Allison's spirit and ability and determination."

Allison uses a wheelchair and has a tracheostomy tube in her neck so is unable to speak. Sharon cared for her full-time at home along with her other children for three years.

After three years, Sharon says Allison inspired her to get a job outside the home, at Easterseals, in fact!

"[Working for Easterseals is] so flexible. I don't know if I ever could've worked anywhere else, with Allison being as fragile as she was," she says. "But this is Easterseals. This is what we do. We support our families."

Sharon describes Allison as funny, quirky and opinionated with a "wicked, wicked sense of humor." She has "a smile that will melt your heart, but you have to earn it."

While Sharon was working at Easterseals, Allison attended special education programs at local schools. Once Allison turned 21, however, she aged out of school and was no longer eligible for state funding that provided the medical support that allowed her to safely live at home.

So in August 2010, it was time to for Sharon to make what she calls the hardest decision of her life. She and her husband decided to place Allison in an assisted living facility in Northern Chicago.

"We always knew someday she'd live somewhere else, but I don't think we would've made the decision at 21," she says.

As time went on Sharon became depressed and sad as Allison's 21st birthday was approaching. "I would come to work crying and leave work crying," she said. "I really was in a bad place."

Then in one moment, it suddenly made sense.

"She deserves to be out in the community and be active all day," Sharon says. "She doesn't deserve to be stuck at home all day with me. We were doing it because it was good for everybody."

Now that their children are grown, with the youngest child, Jack, graduating from high school in the spring of 2015, Sharon says, "We're at a really good place in our life. I still have Jack at home, and my girls are happy. I like where we are."

The advice Sharon has for parents who are the primary caregiversfor their children is to simply breathe. "Allow yourself time to grieve for that child that you dreamed of having," she says. "But then learn quickly that the child you have is joyful and a gift."

She also says that it is important to continue focusing on yourself, your marriage, and all of your kids, regardless of their abilities.

"Don't get lost in a diagnosis," Sharon says. "Some days are just gonna suck; Other days are gonna be rockstar, and it's ok."
Learn more about caregiving services today.
Read more on the new faces of caregiving
Text FAMILY CARES to 80077 to join Easterseals mobile community and get more caregiving resources and information.
SMS Subscription service. Up to 4msg/mo. Msg&Data Rates May Apply. Text STOP to 80077 to STOP. Full terms:

mGive.com/E

Privacy Policy:

mGive.org/P