Caregiving Supports in the Community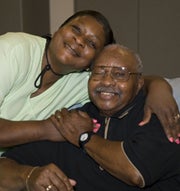 There are a variety of community-based organizations that work with older adults to remain connected, provide access to care and services, and offer opportunities for volunteerism and social connections. Contact your local Area Agency on Aging (AAA) to identify your care providers. Also check out The Eldercare Locator to find additional resources near you for older adults.

Easterseals In-Home Services
Adult Day Services
You may consider having your loved one spend some time during the day with an Adult Day Service Provider. These programs provide daytime support for caregivers while providing an enriching experience for your loved one where they are able to socialize with others, have physical activity and often a meal.
Adult day services are provided by a variety of organizations, and are also a benefit for veterans.
Easterseals Adult Day Services FAQ
Faith-Based, Cultural and Volunteer Community Supports
There are a number of local cultural, faith-based and volunteer organizations across the country that support older adults through mission-based community work. For example, the Japanese American Service League, Jewish Family and Children's Services, and Catholic Charities all have specific programming. If you are active in a particular faith, or would feel most comfortable with others who share a particular background or interest, contact these organizations and learn about programs and services offered for older adults.
Volunteer organizations also play a key role in providing companionship and some household services to older adults. This may range from a "friendly visitor" who will come and visit your loved one sporadically and provide everything from social support to seasonal yard work done, or even a social group to get together and combat loneliness. Some resources are listed below:
National Volunteer Caregiving Network
Little Brothers Friends of the Elderly
The "Village" Movement
Villages are membership-based, and often member initiated, organizations that support people who want to remain in their neighborhoods as they grow older. Annual fees range from $250 – $1,250 and provide access to vetted service providers as well as educational, volunteer, and social opportunities. Villages typically serve a particular geographic area and some may have reduced fees for low-income members.
Currently, more than 150 Villages operate across the country, in Australia and the Netherlands, and more than 120 additional villages are currently in development. See if there is a village near you: Village to Village Network
Next step: Plan transportation options for you and your loved one
Additional Easterseals Resources:
Download the groundbreaking 2015 caregiving study made possible by Mass Mutual and Easterseals.
Access local caregiving help at your local Easterseals.
This content is brought to you by: