Easterseals Many Faces of Caregiving Study
Download The Many Faces of Caregiving Study Summary
We apologize, but the selected Survey is currently unavailable.
Easterseals Is Changing the Conversation About Caregiving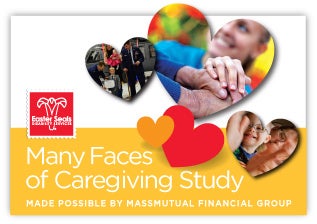 Made possible through the generous support of
MassMutual Financial Group .



Easterseals is changing the national conversation about
caregiving by raising awareness and interest around an
experience that has become "the new normal" for 66
million Americans of all ages. Many people don't self-identify as caregivers, but they are or will be one day. Easterseals provides supports and counsel to caregivers letting them know they aren't alone in what can be a challenging – yet rewarding – experience.
Today, as Americans live longer, more of us are taking on the enormous responsibility of caregiving at much younger ages - often while still needing to work, care for other family members and ourselves. Whether you're a young newlywed taking care of your husband who was injured in war, a son or daughter taking care of your aging or ailing parents, a sibling helping your brother or sister with Down syndrome, or a parent taking care of a child with autism or other disabilities, Easterseals has and will continue to be there by your side. Easterseals is committed to a holistic approach to the caregiving experience, providing valuable services and supports, offering rewarding education/training opportunities, playing a leadership role in the public policy arena at the national, state, and local level, as well as contributing to the research agenda.
Thanks to the generosity of MassMutual Financial Group and their more than 14-year commitment to Easterseals and the families we serve, we've set out to discover a little more about the broad spectrum of today's caregivers through the Easterseals Many Faces of Caregiving Study. Complete the form to the right to download the study findings now.
You can also read stories from many caregivers at easterseals.com/carestories.