Angela Aracena
Senior Director, Adult Day Services Easter Seals South Florida (Miami)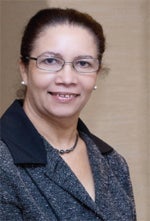 Since she came to the U.S. in 1990, Angela Aracena has been involved in the field of Adult Day Services for people with Alzheimer's disease and other related disorders. She has developed a number of programs to assist caregivers caring for elders at home. Her main interest is the delivery of culturally-competent community-based services for the aging population. She has been the Director for Adult Day Services at Easter Seals South Florida for the last 20 years.
Aracena is an adjunct professor in the Gerontology Program at Miami-Dade Community College, where she has trained many professionals in the field of Recreation Therapy and Healthy Aging. She has made numerous presentations throughout the United States, Mexico, Peru, and the Dominican Republic in the areas of Adult Day Services, Alzheimer's disease and Cultural Competency.
She has appeared as an expert in older adult and caregiving in several videos, and on television and radio programs. Angela Aracena is a member of the Community Advisory Board for the University of Miami Human Genomics Institute, the Local Coordinating Board for Transportation for the Disadvantage, and the Aging Resource Center. Prior to this, Ms. Aracena was the Medical Director for Holy Family Parish Social Services in the Dominican Republic.