A Daughter's Love: Caring for my Mother
Denise Wasilewski made the decision to care for her parents a few years ago and hasn't looked back since.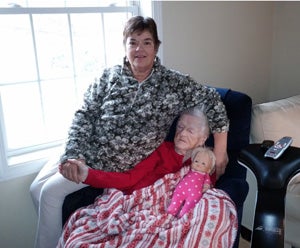 by Amber Travis
A few years ago, Denise started noticing that her parents weren't eating right and had spoiled food in their refrigerator. "My parents were never like that, and I realized that they were no longer able to take care of themselves," she says.
It took Denise three years to convince her parents, Albert and Alice Fournier, to move in with her. "My father didn't want to give up his independence, and he didn't want us to know how difficult it was [to care for him and Alice]," she says. "It [took a toll] on his body."
After much convincing by Denise, Albert and Alice moved in with their daughter in 2009. Denise took care of both of her parents until her father died of congestive heart failure in 2011.
Albert and Alice were married for more than 70 years and they were together until the very end. Denise wouldn't have had it any other way.
Although Denise is one of five children, she says that she and her parents have always been very close and it only made sense for her to become their primary caregiver.
"Someone had to do it and I was the one who stepped up to the plate," she says, adding that it felt like her calling.
Now it's just Denise and her mother Alice, but it's not any easier. Denise quit her full-time job to become a full-time caregiver for her 92-year old mother.
Alice is only 4'10 and weighs 70 pounds, and her daughter says she's a sweet woman with a big personality.The combination of a tiny frame with a big personality requires a watchful eye. "I'm very, very, very careful with her to insure that she doesn't slip or fall," Denise says.
"But she is such a joy. She's a very happy lady. She'll just break out in song, and it's usually opera, or she'll just start talking away, laughing and telling you a story."
Denise says her mother is in the advanced stages of Alzheimer's disease, but she is still able to walk and get around when necessary in her New Hampshire home.
Since Denise had to quit her job to care for her mother, she especially appreciates caregiving resources, such as the Easterseals Caring Companions program, that allow Denise to spend more time caring for her mother while receiving compensation. Caring Companions provides non-medical caregiving services to people in their home, such as showering, laundry and medication reminders.
"I really don't want to see my mother in a nursing home," Denise says. "So it allows me to get some income."
Alice also receives hospice services, including a nurse that comes once a week and an aid that assists in bathing and clothing five days a week. Denise's son, Michael, also comes over a few times a week to help out.
Denise is motivated as a caregiver by knowing she is doing right by her parents, who raised her with love and care. "I'm not going to have any guilt in my heart from having done this, taking care of my mother," she says. "I get to see all the funny things she does and the joy on her face every morning."
Alice is very happy and content being cared for in the comfort of her own home. She even has an adorable doll that she sleeps with and absolutely loves.
"Sometimes we'll go and visit family members," Denise says. "She's happy to see them, but she wants to go home all the time."
Denise knows that she was called to be a caregiver for both of her parents. "My mother was always there for me and I believe that your parents are your parents and you're supposed to take care of them as they age," she says. "I believe it's the right thing to do."
Shortly before her father died, Denise shared a moment with her dad that confirmed her belief in caregiving. Albert asked if she would sit him upright in his bed one night around 3 a.m. What happened next was something she would remember for the rest of her life.
Albert looked around the room then looked at his daughter. "He looked at me and he said 'I'm home, aren't I?' and I said 'Yes, Dad. You're home,'" she says.
"For me, that is what keeps me going, knowing that I did what my father wished and I'm doing what my mother wishes."
Read more about the new faces of caregiving today
For caregiving resources, visit Easterseals.com/caregiving

Text FAMILY CARES to 80077 to join Easterseals mobile community and get more caregiving resources and information.
SMS Subscription service. Up to 4msg/mo. Msg&Data Rates May Apply. Text STOP to 80077 to STOP. Full terms: mGive.com/E Privacy Policy: mGive.org/P