Meet Sam!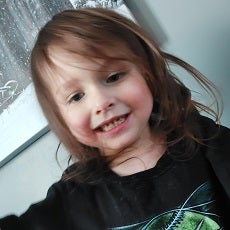 Sam was receiving speech therapy at Easterseals through the Early Intervention program. One of the hallmarks of the EI program at Easterseals is to not only provide therapy to the child, but also educate parents so that they understand their child's development and are empowered to advocate for their care. The support Sam and his mother received from his therapist is what led to his autism diagnosis. As his mother states, "the medical system in general is not geared toward parent advocacy for autism. An 18-month wait to see a developmental pediatrician or behavioral specialist is evidence of this. Early identification and treatment are preached, yet the barriers to diagnosis and treatment are many."
Sam's speech therapist let his mother know about Easterseals Autism Diagnostic Clinic and connected her with the program manager. In no time, Sam was scheduled for a virtual evaluation with a same-day diagnosis.
Easterseals Autism Diagnostic Clinic uses a virtual model with a psychologist and/or developmental nurse practitioner administering the evaluation via teleconference while guiding the parent through activities with the child in their home. Diagnosticians from either Children's Hospital of Philadelphia or St. Christopher's Hospital for Children are also online to observe. The team then collaborates to complete the intricate assessment scoring and provide the family with a same-day diagnosis. By using a telehealth model, families do not have to travel for services and the child is evaluated in familiar surroundings. The wait time for an evaluation is less than eight months, while the average wait time through other clinics and hospitals is over one year. Easterseals also contracts bilingual clinicians, which is a tremendous advantage in reaching people who are traditionally underserved.
"I was a little apprehensive with the concept of an online evaluation," states Sam's mother. "I had my doubts on the efficacy, but nothing could be further from the truth. I'm pretty sure if this evaluation been conducted in a traditional medical setting they would have witnessed a barrage of tears and confusion and Sammy acting completely out of sorts. White coat syndrome is a reality for those on the spectrum."
Through Easterseals Autism Diagnostic Clinic, Sam received his evaluation quickly and he had the diagnosis he needed to begin receiving services. As his mother states, "the diagnosis did not change the broadness and deep complexities of autism itself, but it did give us the tool to start the journey of treatment and helping our child live his best life. I would fight to the death for my son no matter what, and Easterseals gave me some boxing gloves!"