Meet Lilly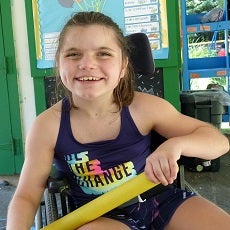 Lilly is a bright, independent nine-year-old who attends Camp Lily Berks. Almost everyone who meets Lilly describes her as a ray of sunshine. Her smile lights up the room and her laugh can be heard across camp. It doesn't matter if a camper is eighteen years old or ten years old, Lilly befriends them all and is a true camp ambassador, drawing everyone into activities and making sure everyone is included in the fun. With her contagious smile and positive attitude, she makes everyone feel welcome.
Lilly's mother Nicole attributes this confidence in part to how comfortable and secure Lilly feels at camp, which she describes as a home away from home. "I know that Lilly is being taken care of and nurtured in so many ways," states Nicole. "She's given the opportunity to grow and try new things. As a result, she has blossomed into her independence."
The friendships Lilly made at camp have extended into the school year and so has her confidence and independence. "Lilly isn't afraid to ask for what she wants and express her likes or dislikes," states Nicole, "and her interests have broadened because of the different activities she experienced at camp." Like all children, Lilly needs a social network to develop her identity and self-confidence. At camp, she is surrounded by peers who accept and support her. These relationships play a significant role in her emotional and psychological development, and empower her to try new things and test her social skills.
Our camp program is designed to ensure that the campers have opportunities to interact with and make new friends; spend time in an inclusive setting where they can explore their personal interests; be part of a larger community with the support they need to succeed; enhance their social skills; increase their independence; and have fun experiencing and doing new things. Camp Lily is a six-week summer day camp for children with disabilities ages 8-21. It is offered at two sites: one in Berks County and one in the Lehigh Valley. We also offer an overnight camp, Growing Green, in the Poconos.