Meet Harrison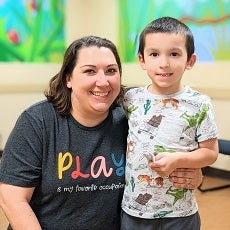 Harrison is a bright and friendly child diagnosed with autism. His relationship with Easterseals began through the Early Intervention program. Both of his parents work in the education field and they wanted to make sure Harrison would be prepared for the demands of school. So just prior to the start of kindergarten, they initiated outpatient services for both speech-language and occupational therapy.
Harrison has thrived using telehealth for his speech sessions and he has made quick progress towards his occupational therapy goals to address sensory sensitivities, activities of daily living, picky eating, and fine motor skills. In less than ten months, Harrison met most of his goals and his parents were very satisfied with his progress. Initially, feeding therapy to address picky eating was also recommended. However, Harrison made enough progress with his feeding during the therapy to address his other sensory needs that it was no longer necessary.
Harrison also attends a weekly social skills group at Easterseals. By interacting with his same-aged peers through Easterseals weekly social skills group, he is able to work on skills like answering social questions, holding a conversation, and taking turns. These are essential skills that Harrison needs to thrive at home and in school.
"We have seen so much progress with Harrison since he has been attending Easterseals," says Jaime, Harrison's mother. "He now has immaculate handwriting, is able to open packaging that he couldn't before, and they even have helped him with his social skills. Everyone is so friendly and compassionate about helping each child succeed!"
Harrison and his family have the support of Intensive Behavioral Health Services (IBHS), a wraparound service focused on skill development to support emotional and behavioral issues. The IBHS behavioral technician (RBT) who works with Harrison was invited to join the therapy sessions at Easterseals in order to help carryover the skills into the other areas of Harrison's life. The RBT also provides behavioral support as needed during sessions, so it was a win-win partnership for everyone involved in Harrison's therapy.
Each week, Harrison is eager to attend therapy and share stories about his school, interests, and family with his therapists. Easterseals is very proud to be a part of Harrison's story and helping him to meet his full potential. Getting the right support early is vital to a child's development. At Easterseals, we are committed to providing the life-changing services children with disabilities and their families need in order to increase independence, maximize opportunities, minimize barriers and enhance quality of life.