Your gift today
Changes a child's future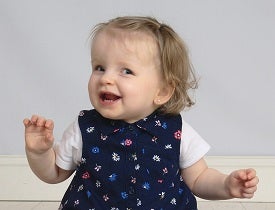 When Leah's family learned she would need therapy for a rare medical condition affecting her overall development, they turned to Easterseals as a trusted partner. Leah began receiving early intervention just after her first birthday and met with her therapists four days a week. Such intense intervention meant a lot of hard work for Leah, but now a future where she can walk, talk, run and play sports alongside her peers is within reach.
Your gift can truly change a child's life by providing a brighter tomorrow where the hopes and dreams of children like Leah – and her family – can and do come true.
Since 1929, Easterseals Eastern PA has provided services to support children and adults with physical and cognitive disabilities, autism and other social, sensory and developmental delays – and their families. Our success is in large part due to the support received from people like you who believe in our mission and in our ability to deliver on its promise.
To make a gift online, select the amount below and then click Donate.
If you prefer to make a gift by mail, make your check payable to Easterseals Eastern PA and mail to:
Easterseals Eastern Pennsylvania
1501 Lehigh Street, Suite 201
Allentown, PA 18103
If you have questions, contact us at 610-289-0114 x205 or by email.