Autism Clinic in Berks County
Easterseals is now offering an Autism Diagnosis Clinic once a month at our center in Reading through a unique collaboration with Children's Hospital of Philadelphia (CHOP) utilizing telemedicine technology to conduct evaluations onsite. We are thrilled to be offering this unique service to families in Berks County.
Nancy Knoebel, Easterseals CEO says, "Telemedicine is a beneficial and convenient way for families in Berks County to access medical services from CHOP, while eliminating costly and time-consuming travel."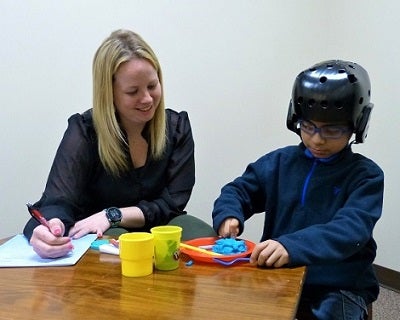 Using the Autism Diagnostic Observation Schedule (ADOS-2), evaluations are conducted onsite by Amy Cengeri, MS, OTR/L and via videoconference by Carissa Jackel, MD, and Kaitlin L. McHenry, MSN, RN, CRNP, both specialists from CHOP. After the evaluation, the team meets with the family to present their findings and provide a recommended course of action.
To participate, children ages 18 months to three years, who are receiving early intervention services such as speech, occupational or physical therapy, will be referred to Easterseals through Service Access Management based on their score on the Modified Checklist for Autism in Toddlers (M-CHAT).
The Law Firm of Leisawitz Heller, in partnership with Customers Bank, generously donated $10,000 to purchase the telecommunication technology and equipment necessary to make the clinic possible.
The United Way of Berks County and the Pennsylvania Department of Health provide funding in support of our clinic services.
For more information, contact Jill Glose, Vice President of Clinical Services, at 610-289-0114 x201.