AAC Mentor Program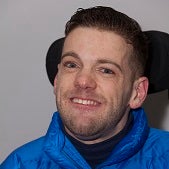 The Mentor Program is for users of Augmentative and Alternative Communication devices (AAC). It is an opportunity to chat, practice, observe and obtain tips on using AAC with Sam Williams, an experienced user of AAC in a group and/or individual session.
INDIVIDUAL SESSIONS
Sam will meet with clients to address specific issues with their device, social rules and strategies of communication. Sam will develop and discuss strategies that will assist the client in more effectively using their device. The client, parent/guardian, and therapist will inform the mentor of the client's needs and appropriate goals. Sessions are one hour. There is no payment for this program at this time.
GROUP SESSIONS
Sam will facilitate social interaction between clients. This interaction will be mostly client driven, with guidance from the mentor. Sam will demonstrate correct social responses and initiations. Sessions will be one hour and are available at 5 pm on Fridays. There is no payment for this program at this time.
WHO SHOULD PARTICIPATE
This program is appropriate for individuals who use augmentative communication devices or communication apps (eg. Prologue2Go, TouchChat, SonoFlex, LAMPWadsForLife) and access using any method. Parent or caretakers are required to remain "close" during the sessions to support as needed.

Participants must have a minimum AAC competency to say a greeting and participate in three exchanges of a conversation at a time.
REGISTRATION
Contact Beth Walkington in Assistive Tech at bwalkington@eastersealsdfvr.org or 630.261.6210 for more information.