Explore Our Programs!
See what services and programs we offer and learn how we can help your child reach new milestones.
Learn More
Our Mission and Vision Statement
Our mission is to ensure that children with disabilities and their families are empowered.

Our vision is believing every child deserves to thrive in an inclusive community.
Show Me Information For
Patient Dashboard
Click the patient dashboard button below to check in for appointments (on day of), update information, access your medical reports or pay your bill.
For questions, please send an email to portalhelp@eastersealsdfvr.org and include the client name and birthdate.
Patient Dashboard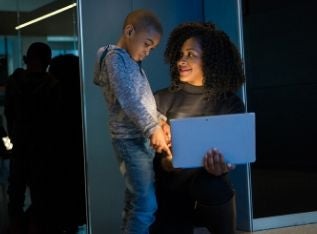 What's New At
Easterseals DuPage & Fox Valley
Ensure that every child like Dalilah has the individualized therapies they need to thrive.
A rare genetic condition affects Dalilah's mobility, facial features, hearing, vision, feeding and speech. After the need for occupational, speech and nutrition therapies was identified, her parents put their trust in a full team from Easterseals DuPage & Fox Valley. A combination of tele-therapy and in-person services helped her make critical gains at a critical time. The brain develops most rapidly in a child's first 24 months, but by the time they're Dalilah's age, only 12% of children eligible for services have the support they need. Together, we can turn that stat around. We offer evaluations to identify delays early, and developmental services that shape a child's most formative years. Your donation is key to bringing early opportunities to children.
Recent Posts From
Easterseals DuPage & Fox Valley
2021 Holiday Gift Guide
December 12, 2021
By: Citlaly Gonzalez Psy.D Clinical Psychologist Winter brings chillier temperatures, twinkling ligh…
Every year, thousands of children with disabilities and their families walk through our doors with a dream; a dream that their son may walk, a dream that their daughter will be able to talk, a dream that their baby will live her life as independently as possible. When you give to Easterseals you are not just giving a dollar amount, you are helping a child's dream come true.