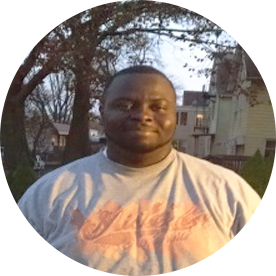 Adonis has been working with Easterseals since April 2013, to live a healthier, more independent life. Now, Easterseals is also supporting his effort to kick his smoking habit.
Being healthy has become extremely important to Adonis. Recently, he was diagnosed with diabetes. Determined as he was to manage his condition by taking his prescribed medication and planing healthier meals, Adonis initially struggled. But with practice and support from his Easterseals Partial Care Program, he learned how to manage his medications and diet effectively. He lost nearly 20 pounds and stopped eating foods high in sugar.
After that, he was ready to take another step toward better health — he was ready to try to stop smoking. Because Easterseals was already helping him develop healthier life habits, he turned to the organization again for support.
Adonis joined the smoking cessation program over the summer. At the time, he was smoking a pack a day. Through determination and hard work, Adonis has cut back on the number of cigarettes he smokes to roughly five a day, and sometimes he finds he can go multiple days without smoking at all. He says he's is able to breathe differently and better when he smokes less.
In fact, during a group discussion, Adonis shared that he would much rather spend his time outside playing basketball than smoking. Encouraging Adonis to do just that, Easterseals New Jersey, his local Easterseals affiliate, gave him a basketball — a small gift to remind him not only to make healthy choices, but that his hard work is paying off.