Wheels for Easterseals is a team of cyclists riding and fundraising to support the children, families and individuals that Easterseals serves.
Join Easterseals, over 8,000 cyclists, 1,000 volunteers and 30,000 spectators at El Tour de Tucson, one of the largest century rides in America. Selected by Bicycling Magazine as one of America's ten best centuries, El Tour features a stunning desert landscape, unequaled comradery and several routes ranging from 28 to 106 miles.
Easterseals has partnered with El Tour de Tucson for years, and its desert charm, inspiring community and fantastic routes bring Easterseals and hundreds of riders back year after year.
If this is your first ride or your tenth, El Tour is a perfect opportunity to join Easterseals and the greater cycling community to reach your cycling goals. Register today!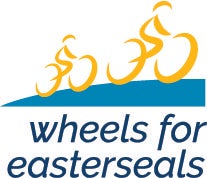 Join our team!
Step

1
Set your fundraising goal and register!

Step 2



Meet your ambassador!

Step 3



Set up your fundraising page!



Step 4



Invite your friends, family and colleagues to support you!