Easterseals Celebrates 100th Anniversary
100% included. 100% empowered
A message from Easterseals President and CEO Angela F. Williams: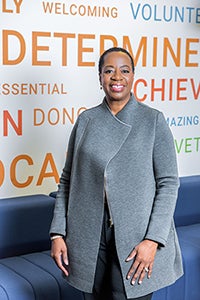 In 2019, Easterseals invites you to join us in celebrating 100 years of impact in the lives of individuals with disabilities, their families and communities throughout America. Whether you're new to Easterseals, or have been a lifelong friend, we're so glad to have you here with us as we create a future where every one of us – regardless of age or ability – is 100% included and 100% empowered. We hope you'll take some time to learn about our history; how a father's dream to make a difference for children with disabilities in his community changed millions of lives forever. And we encourage you to learn about our vision for the future, where we plan to ensure that everyone is respected, included and valued.
Join us in achieving our vision of a world in which every one of us is 100% included and 100% empowered as we celebrate 100 years of impact!
#MyEasterseals Moment
We're honoring our 100th anniversary — and the families, staff and supporters who made it possible — by collecting stories from anyone who has ever been part of our story. As a valued member of our community, we'd love for you to be part of #MyEastersealsMoment.
To participate, submit your story here, or share your favorite memory about Easterseals on your personal Facebook, Twitter and Instagram feeds, and use the hashtag #MyEastersealsMoment. For Facebook, remember to make your post public.
Watch: Easterseals 100th Anniversary PSA
Return to Easterseals UCP Events page