Exceeding Expectations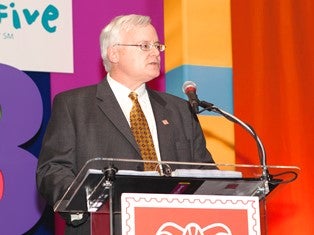 When Miles Reidy first toured The Harry and Jeanette Weinberg Intergenerational Center, he was immediately struck that the facility provided care for adults, seniors and children. "It's such a smart idea," Miles says. "It was clear that Easter Seals had figured out something." Miles, who is the Chief Financial Officer for Audax Health and an investor in Fenway Summer, a consumer investment bank, joined the Board of Easter Seals in 2009. At the time, he was looking for a charitable cause that would be more than "just some form of tax strategy." He was looking for something where personal participation was as important as financial support.
Miles quickly found out that the organization – and the roles he could play – exceeded his expectations. "I really wanted to get involved," he says. The Board welcomed Miles warmly, and he soon took on meaningful roles. He currently serves as Treasurer and Chair of the Finance Committee.
While Miles' connections and contributions to Easter Seals have grown and strengthened, his family has also become involved. In the current fiscal year, he and his wife, Mary Beth, made a major gift to Easter Seals, earmarked for the areas of greatest need. As Miles says, "I'll leave it to the organization to figure out where the funds can do the most good."
Miles and Mary Beth's son, Sean, has also been active with Easter Seals. Now a freshman at Carnegie-Mellon, Sean focused his Eagle Scout service project on forming and leading a robotics team at Easter Seals through its Respite program. For 10 weeks, Sean helped Easter Seals kids build a robotic alligator out of Legos. The goal of the project was to have the alligator's teeth fall out if it ate too much candy. In a presentation to Easter Seals families and executives, mission accomplished!
Sean's experience with the kids had a strong impact on him. His father shares that Sean's Easter Seals experience led him to request a college roommate with disabilities. "He gained a lot of patience and became more comfortable with people who are different from him," says Miles.
Observing Sean's experience was the icing on the cake. While his family has been generous leaders, volunteers and donors to the organization, Miles notes that his family has received more than he ever expected. He says, "We've been paid back many times over just in the life lessons for Sean."