Tracy Neal-Walden, Ph.D.
Clinic Director

---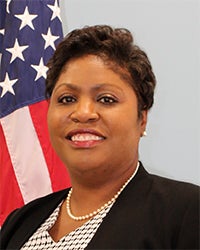 Dr. Neal-Walden is a licensed clinical psychologist and a retired Air Force colonel with more than 25 years of experience in mental health treatment, leadership, outreach and policy. She holds a Ph.D. in Clinical Psychology from Drexel University-Hahnemann Medical Campus in Philadelphia, PA, and completed a two year post-doctoral fellowship in clinical health psychology at the Wilford Hall Medical and Surgical Center in San Antonio, TX.
Dr. Neal-Walden specializes in the cognitive-behavioral treatment of insomnia, depression, anxiety, chronic pain and other health related conditions in military and veteran populations. In addition, she is a clinical trainer in integrated behavioral health in primary care, and has trained, supervised and mentored clinicians across the Air Force and Department of Defense in evidenced based treatment at both the pre- and post-doctoral levels.
Dr. Neal-Walden serves on the American Psychological Association's Continuing Education Committee, and has conducted and published research in the area of suicide prevention.