Mallary Lass
Outreach Manager

---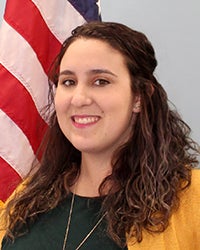 Mallary Lass is the Outreach Manager for the Steven A. Cohen Military Family Clinic at Easterseals (Cohen Clinic). She enjoys collaborating with community partners and strengthening the clinic's programs for veteran and military communities. She prides herself on being a veteran advocate. She has been with the Cohen Clinic since its launch in 2017, starting as the Intake Coordinator before advancing into her new role.
Mallary is a veteran of the U.S. Air Force, who served more than eight years as a mental health technician, including experience as an alcohol and drug abuse counselor. She served in Alaska, Germany, and Texas. During this time, she trained and supervised staff members and created a number of training and clinic continuity manuals. Moreover, she was one of the first mental health technicians in the Air Force to work in the Behavioral Health Optimization Program in Primary Care.
While deployed in support of Operation Enduring Freedom, Mallary served as an in-flight medical escort to psychiatric patients and in the inpatient psychiatric unit. She has taught and led classes for staff and gave briefings for clients on various psychological health educational topics such as sleep, hygiene, suicide prevention, drug and alcohol awareness, and stress management.
Mallary graduated with an Associate's degree in Applied Sciences in Mental Health from the Community College of the U.S. Air Force.