A Scary Good Time at Easterseals Halloween Costume Parade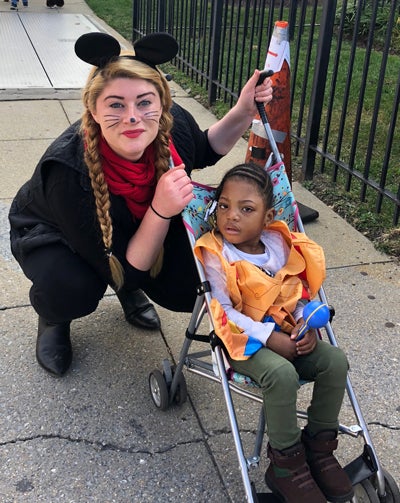 Halloween at Easterseals Child Development Centers is a scary good time for children, teachers and support staff! During the Annual Halloween Costume Parade, teachers led princesses, cowboys, monsters and superheroes from The Safeway Inc. Child Development Center around the newly renovated Harry and Jeanette Weinberg Inter-Generational Center to show off their costumes. Children trick-or-treated with staff from the Steven A. Cohen Military Family Clinic at Easterseals, Veteran Staffing Network, and Easterseals Disability Staffing Network.
Residents near the Easterseals Harry and Jeanette Weinberg Child Development Center in Washington, D.C. got a real treat as students and staff paraded around the Columbia Heights neighborhood in their Halloween costumes.
Our inclusive educational setting creates an environment where children of all abilities have the same opportunities for learning new skills, developing relationships, enjoying a shared sense of belonging and establishing an appreciation for diversity in others. Learn more about our Child Development Centers HERE.