Carly's Story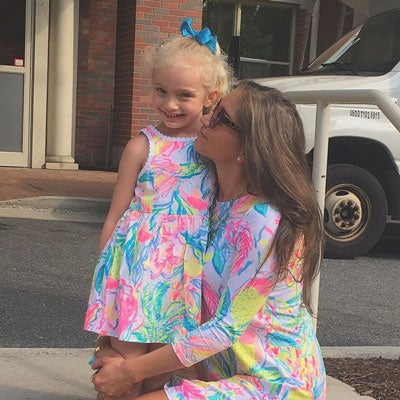 Carly is mom to Aubrey, who has been attending the Safeway, Inc. Child Development Center at Easterseals in Silver Spring for the past three years.
Prior to enrolling her daughter at the child development center, Carly was a stay-at-home mom and military spouse, who was facing unthinkable circumstances while under a tremendous amount of stress and uncertainty from a progressively strained relationship with her husband. At the time, he was on active duty in the military but dealing with post-traumatic stress disorder (PTSD) and was in the process of transitioning out of the military for medical reasons.
Carly and her husband ultimately separated, which left her in an extremely vulnerable position of having to care for her toddler daughter as a single mother without a job and without financial support.
Through friends and family, she was connected to Easterseals and had the opportunity to enroll Aubrey into the Little Warriors Child Development program, which allows children of wounded warriors to receive scholarships to attend one of the centers in the region.
While in the program, Aubrey had the opportunity to grow and learn with her peers in an inclusive classroom environment. More importantly, with the help of our skilled early childhood education teachers, Aubrey had a speech delay that was quickly identified and she was able to get the necessary speech therapy she needed to continue to thrive in her development.
"Easterseals became a safe place for both of us at a time when our outside world was up in flames and everything was chaotic," says Carly. "For my daughter, this place gave her stability and structure at a critical time when her whole life was changing. And for me, Easterseals provided the time I needed to pick up the pieces of my life and figure out what was best for the both of us."
In addition to finding a program for her daughter, Carly discovered that she qualified for support from Easterseals' Veteran Staffing Network (VSN). This program helps veterans and military families find meaningful employment with forward-thinking companies and organizations nationwide. Since 2013, VSN has placed more 2,200 veterans and coached nearly 10,000 veterans, military spouses, National Guard, reservists and wounded warriors to help them succeed at transitioning back into civilian life.
Through VSN, Carly was able to find a job and integrate back into the workforce immediately. Since her initial placement, she has continued to work with VSN to get support with her overall career development. During the last two years, she has attended a number of VSN networking events and worked with a career coach to revise her resume and sharpen her interviewing skills.
Today, Carly works as a marketing specialist at a large real estate firm and her daughter Aubrey just graduated from Easterseals and is ready to start kindergarten.
"Easterseals changed my family's life, both personally and professionally. I really don't know where we would be today without them. Their support has been vital to Aubrey and myself and one day I hope to be able to pay it forward to another family who is experiencing what I went through."
With your support, we can ensure that all of our participants are 100% included and 100% empowered! Please consider making a donation today.