Naomi
Life Is A Balancing Act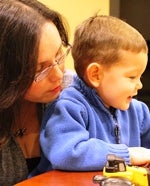 "I really struggled with how to be the best. We want to be the best mom, the best wife. Sometimes I feel like I am failing. Is it best to drag [my kids] to the hospital and be with me or have them go to school and just be kids?" Naomi is a caregiver; she is a mother of three young children and wife of John, an injured Naval Petty Officer Second Class.
Easterseals supports the community: Between juggling doctor appointments and the needs of her husband and children, Naomi was at her breaking point when she met Brooke Kaiser, Easterseals DC MD VA Senior Respite Director. Naomi was not aware of the innovative Easterseals programs available in her community to support her and her family during their time of recovery and transition. The Little Warrior and Respite programs offered at the Harry and Jeanette Weinberg Inter-Generational Center gave Naomi the ability to provide a stable and nurturing educational environment for her children, while she focused on her recovering husband.
Easterseals provides critical early interventions for children: Naomi's oldest child, Mie, graduated from Easterseals Child Development Center in 2013, ready for kindergarten. Easterseals inclusive early childhood program and skilled teachers ensured that Mie met all of her social, emotional and educational milestones, despite the drastic changes and transitions she and her family faced.
Easterseals builds relationships: Naomi's middle child, Allyster, also attended the Child Development Center five days a week. Like so many military families, they lived far from their families, and their children did not have the luxury of seeing grandparents on a regular basis. Easterseals' inter-generational programs gave Allyster the gift of weekly visits with his elder friends from the Adult Day program and he experienced the joy of having multiple "grandparents." These special interactions allow children to build important relationships, particularly our Little Warriors who are in great need of nurturing and stability as they adapt to their changing family situations. Their elder friends also benefit from these special relationships as they feel a sense of purpose and greater overall happiness.
Easterseals supports caregivers: "We all need a little break now and then. I know if I didn't I would get burnt out. The (Respite) program allows me to continue to be strong for my family," said Naomi. With all the stress of John's injury and ongoing recovery, it was critical that Naomi and her husband had time to focus on each other. Easterseals' Respite program provided them with much needed breaks from the day-to-day challenges they face. They were able to spend a few hours focused on each other while their children had a fun, activity-filled day with Easterseals staff and volunteers.
Easterseals provides critical early interventions for veterans. Naomi is so proud of John and the progress he has made in his recovery. He has found employment due to the support of Easterseals' providing child care, and John and Naomi were able to attend a course on running a franchise at Georgetown, which gave John the tools and connections he needed to find a rewarding career and ensure long-term success for him and his family.
DONATE NOW to support more families like Naomi's.