A commitment to build a skilled and competent staff is embedded in our strategic plan, driving us to be a best place to work, known for our unified, well-trained staff and leaders, professional development, and industry-leading retention rates. Central to our efforts are ensuring that searches include a diverse pool of candidates, addressing inequities or gaps in pay, and providing opportunities for meaningful decision making.
Read more about the advantages of working at Easterseals DC MD VA.
Key Representation Indicators
Staff Composition
At Easterseals DC MD VA, we recognize the value of having a staff that reflects the diversity of the communities we serve – including different ethnicities, abilities, and military experiences.
| | | | | |
| --- | --- | --- | --- | --- |
| | Caucasian | Minority | Have a Disability | Served in Military |
| Executive/Senior-Level | 50% | 50% | 7% | 21% |
| First-Level/Management | 55% | 45% | 3% | 3% |
| Other Staff | 20% | 80% | 8% | 3% |
Note that conditions are self-reported and actual figures may therefore be higher.
Wages
We are working toward a goal of ensuring that all staff are paid at least a living wage. The chart below shows our minimum and average pay in those geographic areas where we hve a preponderance of employees, compared to the region's minimum wage and single adult living wage (as determined by the MIT Living Wage Calculator). While Easterseals DC MD VA's average wages exceed both the minimum and living wage levels across all jurisdictions, we have not yet fully achieved our goal to ensure that the lowest wages also meet these levels. Our commitment to transparency compels us to share these figures, which we will update as we continue to make progress: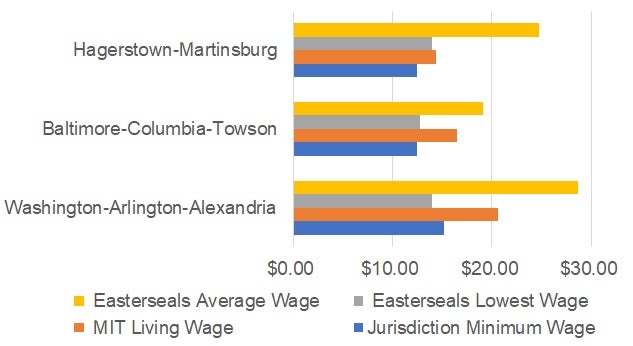 Key Inclusion Indicators
Employee Recognition
The best decisions are those informed by genuinely diverse perspectives. We are therefore intentional in sharing information with and seeking feedback from across our organization.
Monthly One Easterseals meetings share information with – and solicit feedback from – managers across the organization.
Annual performance evaluations include 360-feedback from staff across departments.
Prominent posters around the organization encourage anonymous reporting of suspected impropriety. This system encourages a safe and healthy environment for everyone, without fear of reprisal when concerns are reported.