Easterseals DC MD VA's Board of Directors has been recognized by the Center for Nonprofit Advancement with its Excellence in Board Leadership Award. This reflects our commitment to best practices – including our intentional efforts to recruit Board members who bring a broad and diverse variety of perspectives. We are committed to building an exceptional Board that engages the hearts and minds of its members in a way that results in the growth and development of the organization. To that end, our minimum expectations for Board service go far beyond diversity and are set with the belief that those expectations will be exceeded by our Board.
Key Representation Indicators
We deliberately cultivate a Board whose members bring personal experience with our service areas – those who have a disability, serve as a caregiver, or are a veteran or military family member. We also value those who are or have been of low to moderate income.
Goal:
At least 50% of our Board represent our target service populations.
Current Metrics: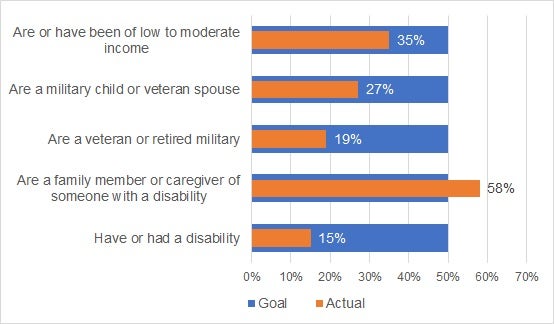 .


Goal:
A least 33% of our Board be members of a minority group (Black/African American, Asian or Asian American, American Indian/Native American or Alaskan Native, Native Hawaiian or Pacific Islander, Hispanic).
Current Metric: 23%
Goal:
No gender should represent more than 65% of our Board.
Current Metric:
Key Inclusion Indicators
During Board meetings, conversation leaders are careful to ensure that innovative and dissenting points of view are heard, understood, and respected. We measure our progress in this area through a Board survey administered after each meeting. Following the most recent meeting, 100% of Board members agreed with the following two metrics:
"I felt members participated responsibly (a diversity of opinions was expressed, issues were dealt with in a respectful manner, and we avoided getting into administrative / management details)."
"If I had questions or concerns, I felt comfortable raising them."