Barron
A Home for Veterans and Their Families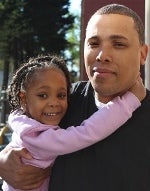 When Barron first walked into the Easterseals DC MD VA Safeway, Inc. Child Development Center in Silver Spring, Maryland, he knew it was the beginning of a new chapter for his family. "It was the warmest child development center I had ever been to," said Barron. "When I walked in, I knew right then that I wanted my daughter to be here."
Barron served in the United States Marine Corps for 17 years and is a decorated war veteran who served four tours in Iraq. In 2005, he was severely injured when a military vehicle carrying his unit was bombed. Barron was first introduced to the Easterseals Little Warrior Program through the Family Service Center at the Walter Reed National Military Medical Center in Bethesda, Maryland. After several transitions on different military bases around the world, he was looking for a safe, warm and stable environment to nurture his young daughter's growth and development. "We really needed a positive change," said Barron. "I didn't know it at the time, but I was looking for Easterseals."
As a Little Warrior, Kendal receives free, high quality early childhood education from Easterseals, allowing her parents to focus on the family's transition to civilian life. "Kendal loves coming to Easterseals every day," said Barron. "She loves her teacher, loves her friends, and the whole experience has made such a difference for her." Most importantly, she is in a safe and fun environment during the day while Barron confidently faces the challenges of his transition.
Barron recently became a participant in our Veteran Staffing Network (VSN), which will help him transition from life in the military to civilian employment upon his official retirement. The VSN career coaches will help Barron build his resume, prepare for interviews, and translate his military skills and experience to find the right opportunity to create a lasting civilian career.
Easterseals has played an instrumental role, not only in the lives of Barron and his daughter, Kendal, but for the well-being of the entire family, and Easterseals will be there to support them in this new chapter—every step of the way.
DONATE NOW to help other veterans like Barron and his family.