Chief Operating Officer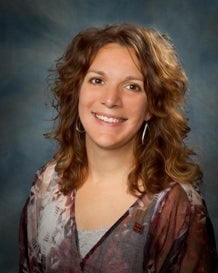 Michelle Schaefer began her career as a therapeutic recreation specialist and has a real interest in working with individuals with disabilities of all ages. As Easter Seals Southeast Wisconsin's Chief Operating Officer, Schaefer emphasizes the importance of creating programs to meet the needs of persons with disabilities and their families. She oversees the day-to-day operations to assure efficient and quality service delivery to all program participants.
Michelle is a mission-focused, personally driven and dedicated leader, who passionately believes in providing inclusive opportunities for all individuals with disabilities to help them live as independently as possible in the community of their choice.
When Easter Seals began a search for a location for a new Adult Day Center in Kenosha, it was Michelle's vision to move beyond integration to inclusion. She was the driving force to house the new program in the Kenosha YMCA. In her case for support for the location, she stated her belief that "inclusion is a right, not a privilege" and the Y would be an opportunity to further our vision of inclusion, access and choice.
Easter Seals Southeast Wisconsin and the Kenosha YMCA have a shared mission to create communities where people with and without disabilities live, learn and play together and strengthen the community as a whole. All families have the right to actively participate in community life, and our program embraces all families and their unique strengths and challenges.
Michelle also has been instrumental in developing respite programs for families in Southeast Wisconsin. These programs provide recreational opportunities for youth and adults with disabilities to gain increased independence and enhanced quality of life through ability and age appropriate activities.
Schaefer has been with Easter Seals for more than twelve years. She earned her bachelor's degree in Therapeutic Recreation from University of Wisconsin-La Crosse in 1998. Her educational background and previous work experience continues to define and direct the comprehensive services offered at Easter Seals Southeast Wisconsin.
Michelle Schaefer
Chief Operating Officer
Easter Seals Southeast Wisconsin
- National Caregiver Spokesperson
262-963-5902