Join Our Team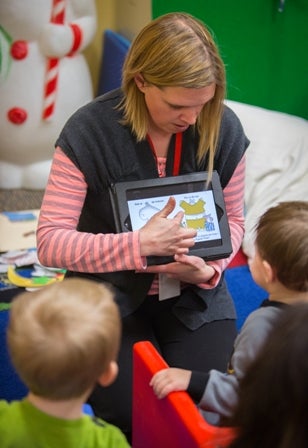 Interested in joining us, but not sure how your work experience relates to jobs in the non-profit sector? You'll be surprised to know that we employ talented people just like you with a variety of skills, education, and interests in our effort to provide a wide range of community-based services. As the agency continues to transform as a local, national and global provider of human services, we need to find the right people to work with us and help move the mission forward. If you are seeking a sense of meaning and accomplishment in your career, Easterseals is for you! We have a variety of work environments and a number of our positions spend a large portion of their time in the community, not office based. Our teams impact and strengthen the lives of the thousands that depend on the life-changing services we provide.
Career Opportunities
Full-Time
Easterseals is eager to help people learn and grow through internships. To see how we can work together please contact us or call our HR team at 414.449.4444.
Easter Seals Southeast Wisconsin, Inc. believes in equal employment opportunity for all employees and applicants for employment. Our agency's success depends on qualified individuals regardless of their age, race, creed, religion, color, sex, national origin or ancestry, disability or association with a person with a disability, veteran status, arrest record, conviction record, sexual orientation, marital status, pregnancy or childbirth, military participation, genetic testing, submitting to honesty testing, or use or nonuse of lawful products off the employer's premises during non-working hours. Employees may not be harassed in the workplace based on their protected status nor retaliated against for filing a complaint, for assisting with a complaint, or for opposing discrimination in the workplace. Easter Seals Southeast Wisconsin Revised August 1, 2016 Page 20 We will not discriminate or tolerate discrimination on the basis of these characteristics in any personnel action including, but not limited to, hiring, training, promotions, transfers, demotions, benefits, compensation, discipline, termination and any other conditions or privileges of employment.
We're Making an Impact
Service Opportunities
"Thank you so much for the incredible opportunity to work with your organization yesterday. Everyone who participated had nothing but great things to say. Your participants are amazing and truly heart warming! I felt so great last night after that experience. I would love to stay in touch for future volunteer opportunities."
~ JR, Johnson Bank, VP
"Thank you so much for allowing our faculty and staff to come to Easter Seals as part of our DSHA Mission Day. The group who came commented that they felt very welcomed, learned so much about Easter Seals and that everyone was so well-prepared for them. Thank you so much for giving them a truly valuable experience. We really value our relationship with your organization and look forward to many years of partnership. Thank you again."
~ LB, Director of Salvatorian Service, DSHA High School