Workforce Training Center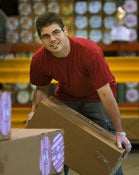 Our mission at our new Waukesha Center is to provide job training and employment opportunities for adults with disabilities and to support individuals in overcoming vocational barriers that exist due to their special needs. We place trainees based upon their strengths & aspirations. We help them determine what they want to do for work and then look for a matching employer.
Our primary workforce development and training programs include:
Read about our success stories to understand how we can work with you.
LilyWorks Commercial Services of Easter Seals
Our commercial services offer opportunities for individuals to develop work skills in areas of catering, cleaning, recycling and lawn maintenance. These work environments offer community based integrated work skills training across the area that are translatable to a variety of independent community job opportunities.
LilyWorks Commercial Services provided at our Waukesha Center and in community locations across our six county service area.
LilyWorks Cleaning Services
For more information about our Waukesha Center, please contact us and we will happily provide you with additional information and a tour of our facility.
Proud supporter of our Workforce Training Center: