LilyWorks Catering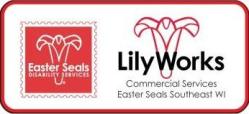 LilyWorks can provide excellent catering for all your small and large event needs. Let us cook for you and feel good about giving people with disabilities an opportunity to develop their work skills.
Select items from our our suggested menu or we can work with you to create dishes to compliment your next event. View our LilyWorks Menu (*PDF format)
Contact us to quote your next event.
LilyBrew Coffee & Gift Boxes
Save yourself the frustration from chaotic shopping malls in the holiday season and order LilyBrew Coffee & Gift Boxes from Easter Seals today! They are the perfect gift items for relatives, friends, co-workers, corporate giving or anyone who loves great coffee.

Feel good about giving this holiday season knowing your purchase supports employment opportunities and connects individuals to jobs.
Coffee Flavors included in each box:
French Roast
Hazelnut
French Vanilla
Sales limited to Wisconsin residents only but can be shipped to anywhere in the continental U.S.