Prevocational Services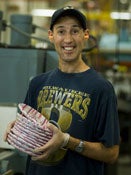 Prevocational services are activities specified in the person's individualized plan that prepare an individual for paid or unpaid employment by conducting a variety of assembly, collating, packaging and kitting tasks for local business.
Services include support and training in behaviors related to following directions, attending to task through completion, problem solving and safety and/or may also focus on assisting the person to adjust to the productive and social relationship demands of the work place.
Easterseals staff work with individuals to increase independence and functional skills and assist in defining their vocational goals.
Interested in giving people with disabilities new opportunities? Visit LilyWorks.org to see how your business can partner with Easterseals.