Richard W. Davidson – Immediate Past Chairman
Parsippany, New Jersey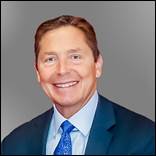 Rick Davidson was appointed President and Chief Executive Officer of Century 21 Real Estate LLC a wholly owned subsidiary of Realogy Corporation (NYSE: RLGY) in February 2010. In his role, Davidson leads the world's largest real estate franchise organization of approximately 6,900 independently owned and operated offices and more than 101,000 independent sales professionals in 78 countries and territories worldwide.
In 2013-2016 Davidson was recognized in the Swanepoel Power 200 list of the most powerful people in residential real estate, and in 2011- 2013 he was included in The Inman 100 Most Influential Real Estate Leaders. Plus, in 2015, Davidson was honored by the International Franchising Association with the IFA Ronald E. Harrison Diversity Award.
Prior to his current post, Davidson served in a dual capacity as President and Chief Operating Officer of Coldwell Banker Commercial Affiliates (CBC) and as Chief Operating Officer of Coldwell Banker Real Estate, LLC (both wholly owned subsidiaries of Realogy Corporation). In his post as President and COO of CBC, Davidson was responsible for the overall success of this global commercial real estate franchise. As COO of Coldwell Banker Real Estate, Davidson led this global franchisor's education, events and awards, contract administration, and field servicing platforms.
Prior to his appointment by Realogy, Davidson founded and was the President and CEO of Coldwell Banker Commercial Capitol Realty Services. This was an independently owned and operated commercial real estate company in the Washington, DC market. Davidson's prior commercial real estate experience included nine years as Managing Director of CB Richard Ellis in Washington, DC and three years with Insignia/ESG as Executive Vice President. During his tenure with CBRE, Davidson received numerous national awards including Manager of the Year in 1994 and 1996, and both the J. Frank Mahoney and James Didion Chairman's Leadership Awards for Real Estate Excellence in 1997, 1998 and 2000.
Davidson served as Chairman, International Board of Directors for Easter Seals, Inc. He is actively a Big Brother with Big Brothers/Big Sisters and also serves as a Base Committee Member of the Boy Scouts of America Northern Tier High Adventure Base.
Davidson is an honors graduate of the College of Management and Business at National-Louis University.